This article is more than 1 year old
Planes, boats and autocrats: US Treasury Dept. slaps more sanctions on accused Russian troll funder
US wants to take St. Vitamin, the yacht of Yevgeniy Prigozhin
On Monday, the US Department of the Treasury (DoT) expanded its sanctions against entities associated with the Internet Research Agency (IRA), the Russian organization accused of meddling with US elections in 2016 and 2018.
The DoT said it had taken action against Russian entities and individuals that allegedly tried to interfere with the 2018 US midterm elections, even as the agency insisted, "there was no indication that foreign actors were able to compromise election infrastructure that would have prevented voting, changed vote counts, or disrupted the tallying of votes."
DoT's Office of Foreign Assets Control announced sanctions against four organizations, seven individuals, three aircraft and a yacht associated with Yevgeniy Prigozhin, the Russian financier, who is accused of bankrolling the Internet Research Agency.
Prigozhin has been sanctioned by the DoT twice before in 2016 and 2018 for alleged involvement with IRA electoral influence operations. He was indicted by a US grand jury, along with twelve other defendants, for conspiracy and fraud based on the findings of Special Prosecutor Robert Mueller.
The sanctions are the first under Executive Order 13848, which authorizes punitive action against foreign entities and individuals determined to have interfered with US elections.
"As a result of today's designations," the DoT said in a statement, "all property and interests in property of these persons, including the identified aircraft and vessel, that are or come within the possession of US persons are blocked, and US persons are generally prohibited from engaging in transactions with them."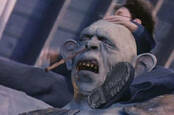 Russian 'troll factory' firebombed – but still fit to fiddle with our minds
READ MORE
In other words, were Prigozhin careless enough to take one of his private jets, designated M-VITO, VP-CSP, and M-SAAN, or his yacht, St. Vitamin, to the US or a US controlled-territory, he'd be unlikely to get it back. Chances are he would be arrested if identified on US soil. The DoT sanctions are also intended to deter third-parties from servicing these transport craft.
"Free and fair elections are the cornerstone of American democracy, and we will use our authorities against anyone seeking to undermine our processes and subversively influence voters," said Secretary Steven Mnuchin. "This Administration will work tirelessly to safeguard our electoral process, and will aggressively pursue any other foreign actor that attempts to interfere in the 2020 elections."
Mnuchin earlier this year refused to release President Trump's tax returns to Congress, arguing that House Ways and Means Committee chairman Richard Neal's request "lacks a legitimate legislative purpose."
One of the reasons cited for reviewing Trump's tax returns is to determine whether any transactions can be tied to Russian electoral interference. ®