This article is more than 1 year old
Spin doctors: UPS gets permission to expand drone delivery fleet in the US
Close the window and put back the fishing net, it's only for hospitals right now
UPS is boasting of a deal with America's Federal Aviation Administration which the shipping giant says will dramatically expand its drone delivery operation.
The parcel-mover on Tuesday said it had been granted clearance under the FAA's Part 135 certification to operate its drone service as an air transport business.
While other companies, namely Amazon, have dabbled in package deliveries by drone, UPS is looking to take things a step or six further by going from small pilot programs to a full-fledged subsidiary business.
This certification will allow the drone operation, known from here out as Flight Forward, to run a more or less unlimited number of drone flights that are not bound by normal FAA drone rules like limited operating hours and line-of-sight restrictions.
Flight Forward is initially setting its sights on highly-specialized markets, specifically the health-care industry where the drones can move items from one side of a large hospital campus to another faster than a human runner could manage.
The first location for the service will be in Raleigh, North Carolina, where the drones will move items around the WakeMed hospital campus.
"Our technology is opening doors for UPS and solving problems in unique ways for our customers," UPS CEO David Abney boasted of his new copter fleet.
"We will soon announce other steps to build out our infrastructure, expand services for healthcare customers and put drones to new uses in the future."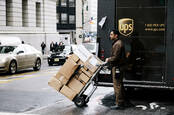 Truckers, prepare to lose your jobs as UPS buys into self-driving tech
READ MORE
That doesn't however, mean that you'll be seeing swarms of parcel-toting copters flying around London or San Francisco any time soon.
A company spokesperson told The Register that for the foreseeable future UPS plans to stick with large, spread-out territories that have a specific need for fast deliveries- things like medical or corporate complexes.
"As we evaluate industries for these services, we're looking at the existing infrastructure and demands for speed. Drone delivery makes more sense in some areas than others," the UPS spokesperson explained.
"For example, drone service may not be efficient in dense urban areas where package deliveries are already concentrated." ®