This article is more than 1 year old
Microsoft has made an Android phone. Repeat, Microsoft has made an Android phone. A dual-screen foldable mobe not due until late 2020
If at first you don't succeed, there's always Linux, eh?
Microsoft beat the leaks, and today announced a forthcoming Android Surface Phone Duo at its annual hardware event, among other dual-screen Qualcomm and AMD-powered goodies.
There is a huge catch: you'll have to wait until Christmas 2020 if you want one of your own.
Surface Duo
In time-honored Jobsian tradition, Surface enthusiast-in-chief Panos Panay left the surprise announcement to the end of the New York City jamboree, unveiling foldable phone. Unlike the Samsung Galaxy Fold, Microsoft's attempt at a folding fondleslab is quite clearly two screens, with a chunky 360-degree hinge in the middle, allowing the displays to be positioned however you want: as a small tablet, as a closed-up device, half open as a book, or fully open as a large flat tablet.
Those touchscreens are each 5.6-inch units, making an 8.3-inch display when opened up fully. While the separate screens will be scoffed at by owners of Samsung and Huawei's forthcoming foldable fondleslabs – which use one large continuous bendable display – the Surface monitors should at least be more durable than Sammy's first disastrous attempt at the bendy tech. Well, you would hope.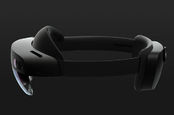 The Reg strokes a talon across the HoloLens 2 and Surface Hub 2S
Microsoft is also not planning to crowbar Windows 10 into the hardware this time around, opting for Android instead. Panay told the adoring assembled fans that the company was "partnering with Google to bring the best of Android." This comes after Microsoft extracted billions of dollars in patent royalty payments out of Android makers, until recently, and is about to finally bring the axe down on its family of mobile Windows operating systems. And this is Android powered by Linux, the open-source kernel that Redmond now apparently loves after earlier declaring it a cancer. Quite a turnaround.
"If Microsoft ever does applications for Linux it means I've won," the kernel creator Linus Torvalds said back in 1998. Well, you've won, Linus.
So anyway, the phone looks neat, although there were precious few details on what the hardware will actually comprise. We understand it may well pack a 7nm eight-core Qualcomm Snapdragon 855. It's not out until the end of 2020, and the 14-month lead-time before the thing is due to hit the shelves will mean that developers have plenty of time to adapt apps for the device but, of course, a year or so is a heck of a long time in the Android world, and Microsoft has very much shown its hand.
Surface Neo
The other foldable shown off, and one for which Microsoft was happy to share more details, was the Surface Neo. Looking like a bigger version of the Duo, the Neo is also an unapologetically two-screen device with a 360-degree hinge, thus dispensing with the foibles of other foldables. The touchscreens are 9-inch displays which, when the device is opened, create 13-inch display albeit one with a clear line down the middle. It is powered by a 10th-gen 10nm Intel Lakefield processor, using some custom 11th-gen GPU wizardry to support those dual screens, and packaged up using Chipzilla's Foveros die stacking. It seems Lakefield was crafted specifically for things like the Neo.
The slabtop will use Windows 10X, which is described here: it's essentially a flavor of 'doze that's customized for dual-screen gadgets. And by that, Redmond means it has tweaked the user interface so it makes sense on two side-by-side displays that may be held like a half-open book in your hands, for instance. It also lengthens the battery life for these sorts of handhelds, apparently. It can still run stuff like Office, Win32 software, and so on.
The operating system is also not due to land until late next year, so don't get too excited or panicky – anything could happen in the next year-and-a-bit. Microsoft's Eran Megiddo said:
Windows 10X will be available on dual-screen and foldable devices starting in the fall of 2020, in time for the holiday season. These will include both Microsoft Surface and devices from several Windows ecosystem partners including ASUS, Dell, HP and Lenovo. The first wave of devices will vary in size, design and specs, and be powered by Intel.
So that's another 14 months for app devs and competitors to respond.
Looking considerably further along in development than the Duo, the Neo was also shown with a physical keyboard and pen. The former can magnetically attach itself to the case, and charges wirelessly. Slap it on the bottom of a screen and the display adjusts to show a shortcut bar right above it. Slide the keyboard to the top, and the exposed screen below shows a trackpad.
It's slick, though possibly a little awkward in use. Attempting to close the display with the keyboard magnetically attached leaves the machine partially open, otherwise the keyboard sticks on the back spoiling the device's sleek lines. The screens are 5.6mm thick, and the whole thing weighs 655g.
The pen, which can magnetically attach itself to the back of one of the displays, looks good though could lead to a lot of pens getting swiped off the things. Still, over a year remains to tweak the final design.
Like the Duo, developers will have plenty of time to create apps for Windows 10X and Neo. Also like the Duo, there is no indication yet as to what the machine will cost, or even if the name will stick around until Santa fills his sack next year.
X marks the spot
The X moniker was also slapped on the Surface line, with the Surface Pro X unveiled, replete with a custom SQ1 system-on-chip developed by Microsoft and Qualcomm. The SQ1 is a heavily customized form of Qualy's 7nm eight-core Snapdragon 8cx, so this is another attempt by Microsoft at Windows on Arm after earlier stumbles. Featuring slimmer bevels, LTE, and a GPU customized for the gizmo, it is indeed the first time in a while Microsoft has stuck an Arm-compatible application processor in one of its devices.
The fondleslab smacks of Microsoft turning to makers of Arm-compatible laptops, and saying "this is what we meant by Windows on Arm." The 13-inch touchscreen screen has a resolution of 2880 by 1920 pixels, the whole thing weighs 1.68 pounds and is 5.33mm thick, and USB-C and A ports have put in an appearance along with a slimmer, rechargeable Surface Pen that sits in a pocket between the keyboard and display. The chipset has also received a battering with the AI stick, as Microsoft showed off a Teams feature to adjust eyeballs in video calls to appear to be staring at the recipient. Apple, of course, unveiled something very similar in the form of iOS's Attention Correction.
The Windows 10 Surface Pro X is due to hit in "early November" starting at $999. Thankfully, that's November 2019.
Surface Laptop 3 – repairability at last?
Also looking more repairable is the new Surface Laptop 3, as Panay popped off the keyboard to show the guts within ("do not do this" he cautioned to the crowd.)
The new Surface, in an aluminium chassis, enjoyed a processor bump with either a quad-core 10th generation Intel Icelake unit or, horror of horrors as far Chipzilla is concerned, an AMD Ryzen Surface Edition chipset.
Aside from the performance bump, the Surface Laptop 3 seemed more a simple update compared to what came after it during the launch event. Not that that stopped Microsoft throwing a little shade over Apple, declaring the machine three times "more powerful" than a MacBook Air, and that the Surface keyboard is not something Redmond would dare compromise on. Hint, hint.
The Windows titan was also unable to resist pointing out that "it was tough to use a product without a mouse, tough to be productive." The Surface Laptop 3 weighs in at 3.4 pounds, has a 15-inch screen, a 1.33mm keyboard travel, and USB-C and A. It starts from $1199, or $999 for a 13-inch version, and you can order one now online for a late October delivery: more specs are right here.
Show your love for Surface – buy some MASSIVE Earbuds
Aside from a warmed-over and USB-C-enabled Surface Pro 7 – available from 22 October from $749, and still with USB-A – the other major announcement was the Surface Earbuds, which were ungainly looking things and priced at $249. Yes, really.
For that you get a set of small, medium, and large earpieces fitted onto a large, touch-sensitive back plate that allows touch controls for volume and summoning Cortana. The gizmos will be integrated with Office and other apps, and they can transcribe speech, apparently. They have a claimed eight-hour battery life and will be available this Christmas.
It's an interesting move by Microsoft, especially in such a crowded marketplace and smacks a little of me-tooism. However, the huge circular disks are certainly… different and could well appeal to those fully onboard with the company's productivity line and who have cash to burn. ®