This article is more than 1 year old
Nominet continues milking .uk registry cash cow with 4 per cent price rise for... what exactly?
Increased costs of running the registry business? Or more money for failed expansion?
The business in charge of the UK's internet registry has decided to raise the price of all .uk domains, sparking fury among domain owners who accuse the non-profit of milking the registry to fund executive pay rises and unrelated business expansions.
"Following the annual review of pricing by the Board last week, the wholesale cost for a .UK domain registration or renewal will change to £3.90 per year from 13 January 2020," Nominet said in an announcement on Tuesday.
It added: "The 15p per domain increase reflects some of the increased costs of running the registry business since prices last changed in 2016. We have absorbed the majority of the increased costs, but decided after careful consideration that a 4 per cent increase in the wholesale price was appropriate."
That explanation did not sit well with those who are supposed to be the primary stakeholders in the organization - its members. "After a 50 per cent hike in 2015, Nominet *only* need an extra four per cent this year - £2m a year at "13m+" domains - to run the registry after posting a £19m profit after tax in 2018 whilst not donating anything to the trust," noted one. "You know, bonu - er, costs. Rising all the time."
Another was blunter: "I see Nominet are taking the piss again, putting prices up. 'Increased costs of running the registry' - Yes, your massively above inflation executive pay. You run what is essentially a static database, costs don't go up for that, they come down over time."
Nominet is supposed to act in the public interest and is legally structured as a non-profit member organization but under its current CEO, a former acquisitions and ventures specialist, it is increasingly behaving like a for-profit IT company that uses the stable income from the .uk registry to fund ventures into fields as diverse as cybersecurity, autonomous vehicles, white space spectrum management, and the internet of things.
Robbing Peter to pay Paul
Those ventures have been universally unsuccessful and in at least one case Nominet has been accused of running a contract at a loss in order to break into a competitive market. As the organization has ramped up its expansion into new markets, it has repeatedly tapped its core business - the UK's internet registry with over 13 millions domains - to fund the expansion.
In addition to a 50 per cent price rise in 2015, Nominet forced through the creation of new .uk domains in 2014, even though there was strong opposition to the plan, bringing in millions of pounds of new revenue. Then, last year, it sidelined its charitable trust - to which it had donated roughly £10m a year for a decade - and kept all the funds in-house.
At the same time, the company massively increased pay and bonuses to its staff, executives and directors. Since 2014, average staff salary has increased by 37 per cent and director salaries have rocketed 51.7 per cent.
This shift has been accompanied by a concerted effort to bring a curtain across Nominet's finances: the company shortened and then ended altogether reports of its board meetings and decisions, and around the same time stopped requesting that its directors file conflict of interest statements - meaning that they can vote to approve measures that would directly financially benefit themselves or their organizations.
How is it possible for a non-profit member organization to go directly against the wishes of its members, raise prices, spend the resulting funds on unrelated business expansions, pay massive bonuses and salaries, and refuse to provide stakeholders with sufficient financial details to ascertain the success or otherwise of its business?
Every vote counts. But some count more
The answer to that lies in Nominet unusual voting structure. Even though it is Nominet members - made almost entirely of companies that sell .uk domains called registrars - that hold all the voting power, those votes are parceled out according to how many .uk domains an organization possesses. The more .uk domains an organization oversees, the more votes it has; albeit with a ceiling.
The upshot of that arrangement is that the five largest UK registries have an effective veto over anything that Nominet does: a position of power that was most clearly demonstrated when they opposed a reform process that would have diminished their power and which ultimately resulted in the resignation of Nominet's chair.
Following the failed reform process, the organization underwent a lengthy civil war between smaller members and a few large corporations, which grew so intense that it nearly resulted in the UK government stepping in to take charge. The large corporations eventually won the fight after Nominet management decided to side with them, but not before some extraordinary behavior on the part of the non-profit's management and following the resignation of several Board members, including Angus Hanton and Jim Davies.
In one contested election for Board seats, Nominet's management ordered its staff to contact members by phone to urge them not to vote for specific individuals it didn't like. And years after the organization's general counsel Emily Taylor left the organization, her employment tribunal revealed that Nominet's CEO Lesley Cowley and chair Bob Gilbert had actively misled members about their discussions with the UK government (she won her unfair dismissal case). Nominet's CTO Jay Daley also quit after he raised concerns about the CEO's actions and faced recriminations as a result.
Nice answers, try again
In an effort to rebuild relationships within the organization, when a new CEO - Russell Haworth - took over in 2014, he ordered an independent review into what changes need to be made to its governance structure. But when the former chair of the BBC Trust, Sir Michael Lyons, did not provide the answers that the Nominet Board had made clear they wanted in his report, it chose to disregard the majority of his recommendations.
Which brings us to the current governance of Nominet, whose Board comprises almost entirely of Nominet's senior staff and representatives of the same large corporations that possess a voting veto.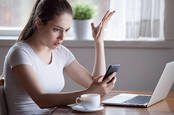 Two years ago, 123-Reg and NamesCo decided to register millions of .uk domains for customers without asking them. They just got the renewal reminders...
READ MORE
That disparity has led to a number of recent decisions that have clearly and directly favored the financial interests of both groups. In June, the Board approved a $100m windfall designed to benefit Nominet largest members over smaller members and the broader British public. And last month a registration scheme resulted in unknown numbers of angry .uk domain owners being charged for domains they never ordered and didn't want - a policy that Nominet's management was aware of, did nothing to prevent.
And then, this week, a further price increase in the wholesale cost of .uk domains with no proper explanation or justification; an increase that will net yet more millions of pounds for Nominet at the expense of the UK public to be spent on whatever its management team decides with little or no accountability.
But what is perhaps most telling of all is that while the price rise has caught most Nominet members by surprise, this reporter heard rumours two weeks ago that Nominet's Board was planning to meet in secret to discuss a possible price rise.
Why rumors and how did we hear them? Because Nominet's Board was sounding out its largest registrars for their thoughts about a price rise. Today's announcement demonstrates that none of the five companies that effectively decide the pricing and policies of the UK's internet space objected. As for the rest of you, cough up. ®