This article is more than 1 year old
DXC has picked a brand new people person: Finch lands as freed Mason preps to depart
New Mike's first senior hire
Updated The HR head at DXC Technology, who according to a ex-senior staffer once cut up former CEO Mike Lawrie's steak during a business dinner, is leaving the business.
The company issued a statement this week to confirm the hiring of Mary Finch as exec veep and chief human resources manager, a role that Jo Mason held at DXC and at CSC, prior to its spin merger with HPE Enterprise Services, which created DXC.
The change is the first major appointment by DXC's new broom Mike Salvino, an ex-Accenture vet who joined DXC last month, replacing Lawrie, who will remain as board chair until 31 December. Salvino has been on the DXC board since May.
Finch will run HR and "employee engagement" globally, and her remit includes "talent management and training; employee retention and recruitment; policy, benefits and compensation; workforce development and organisation effectiveness; staffing and training; and global inclusion and diversity".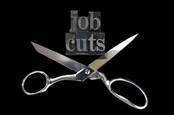 DXC: We axed 10k staff, shut nine data centres, closed 4.6m sq ft of office space... and sales tumbled, funnily enough
READ MORE
She joins DXC from US engineering outfit AECOM where she was chief human resource officer since 2015.
As regular Reg readers will know, DXC has something of a chequered past when it comes to retaining loyal servants, having parted with 40,000 staff since it started trading in April 2017 – so any change in policy to the relentless cost-cutting will be well received.
"Our employees are key to achieving our goals and aspirations," said Finch, who talked of "transforming our workforce, developing and nurturing global talent, and instilling new levels of pride and performance among our employees."
Let's hope the actions match the words.
When Salvino landed at DXC in September, DXC told the workforce it had finished the "first phase" of corporate "transformation" and was now moving into the second stage where senior management will be "focused on sustainable growth".
"Growth of our people, growth of our customers and growth of our business," stated the company memo, seen by us.
DXC needs to manage declines in its legacy outsourcing services business and fire up relatively newer lines of business including the cloud and application migration services.
Analysts at TMV emitted this understated gem on the news:
DXC's approach and effectiveness in respect of human resources and talent management has long been been seen by some as an area of weakness for the organisation. It may therefore be no coincidence that Salvino appears to have recognised this and acted swiftly to make leadership changes. The advent of Finch marks a further positive step for DXC, as the tech giant seeks to improve its internal culture, in the face of its ongoing transformation.
As for Mason, who in a lawsuit by former DXC exec Steve Hilton was claimed to have split Mikey L's beef dinner and side dish with him at a dinner meeting, was not mentioned even once in the press release that heralded Finch's arrival.
Updated to add
DXC has made contact since publication of the story with a statement on Mason:
"With the appointment of Mary Finch as DXC Technology executive vice president and chief human resources officer, Jo Mason will play an active role in Mary's transition and will continue to work on strategic projects for DXC until her planned retirement and return to the UK next May". ®