This article is more than 1 year old
When one of NASA's sun-studying satellites went down, AI was there to fill in the gaps
Machine learning in spaaaaaace!
Neural networks have helped scientists monitor the Sun's extreme ultraviolet outbursts after an instrument on NASA's Solar Dynamic Observatory suffered an electrical malfunction, making it difficult for scientists to monitor a portion of extreme ultraviolet energy (EUV) being spewed by our star.
EUV rays ejected from solar flares are particularly worrisome. The surge of highly energetic particles bombarding Earth can cause radio communication blackouts, knock satellites out of place, and disturb GPS signals. Space agencies around the world keep a close eye on the Sun's activity in an attempt to study and predict these outbursts.
NASA's SDO is just one of the many spacecrafts currently orbiting our planet's star. Launched in 2010, it studies the Sun's atmosphere across many wavelengths of light. One of the channels on its Multiple EUV Grating Spectrograph A instrument (MEGS-A) failed, however, preventing scientists from detecting wavelengths from five to 37 nanometers - a range that covers about 60 per cent of all EUV emitted from the Sun.
"The goal of this work is to fill this gap in measurement capabilities with a virtual replacement for MEGS-A," a group of researchers said in a paper published in Science Advances on Thursday.
They built a convolutional neural network (CNN) to predict the outpouring of EUV energy from the Sun by inspecting spectral images taken in ultraviolet by a camera on the SDO. It's possible to glean such information since the same amount of plasma is being measured from both the camera and the MEGS-A instrument, they argued.
First, they took the data measured from both devices over 2011 to 2014 and fed it in. About 70 per cent of the data taken in 2011 and 2014 was used to train the CNN and 30 per cent was used for validation. The data in 2012 and 2013 was used to test the system.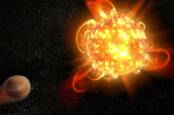 Hate your IT job? Sick of computers? Good news: An electronics-frying Sun superflare may hit 'in next 100 years'
READ MORE
The model, known as the ANet3, contains about a million parameters. By feeding it a spectral image and its corresponding spectrograph data detailing how much EUV was being emitted across various wavelengths, the system picks up on the visual patterns that hint at the abundance of energies being spewed by the Sun. The results show that ANet3 has a median error rate of about 1.6 per cent, so it's pretty accurate.
"Our research shows how a deep neural network can be trained to mimic an instrument on the Solar Dynamics Observatory (SDO)," said Alexander Szenicer, co-author of the paper and PhD student studying Computational Geophysics at the University of Oxford.
"By inferring what ultraviolet radiation levels that sensor would have detected based on what the other instruments on SDO are observing at any given time, we demonstrate it is possible to increase scientific productivity of NASA missions and to increase our capability to monitor solar sources of space weather."
But neural networks aren't a substitute for real measurements taken from spacecraft; they rely on data taken from the SDO to even work after all. The virtual models can be used alongside spacecrafts on missions and help scientists fill in the gaps should instruments suddenly malfunction. ®