This article is more than 1 year old
HP polishes the redundancy cannon, prepares to fire 16% of workforce
That's up to 9k jobs to go in lurch to 'create shareholder value'. Plus: $5bn to be spent on share buy-backs
HP Inc's incoming CEO kicked off his reign of terror at the hard-pressed organisation by doing what so many old-world tech company bosses do these days: chopping thousands of jobs and buying back shares.
The plan is to lay off up to 16 per cent of the 55,000-strong workforce, shedding between 7,000 to 9,000 jobs via redundancy and voluntary early retirement. HP will also fork out $5bn on shares to reduce market volumes and perk up its market capitalisation.
Enrique Lores – the global print division boss who takes over from Dion Weisler as chief exec and president on 1 November, the start of HP's fiscal '20 – last night talked tough.
"We are taking bold and decisive actions as we embark on our next chapter," he said. "We see significant opportunities to create shareholder value and we will accomplish this by advancing our leadership, disrupting industries and aggressively transforming the way we work."
Does it all sound like familiar buzzword bingo? Yep, we agree. Lores continued that – apparently – HP will become an "even more customer focused and digitally enabled company that will lead with innovation and purpose."
The "restructuring plan", said HP, is to "simplify" the operating model and somehow become "more digitally enabled", though it didn't elaborate on ways it will achieve this, other than to confirm the redundancies.
"The company expects to reduce gross global headcount by approximately 7,000-9,000 employees through a combination of employee exits and voluntary early retirements," HP said.
Back-office corporate functions are expected to be where the vast majority of the cuts will fall.
The actions will incur total labour and non-labour costs of roughly $1bn, with some $100m of this on the balance sheet in Q4, which ends 31 October, $500m in fiscal 2020 and the rest split between fiscal '21 and '22, which is when the "actions" are expected to be done and dusted. Savings are projected to be $1bn by the end of the period.
On share buy-backs, something that most tech vendors do these days – from IBM splashing more than $100bn in the past seven years, to Apple spending tens of billions doing the same – HP has authorised $5bn for "future repurchases of its outstanding shares of common stock".
As of 30 September, HP was running low with just $1.7bn of share repurchase authorisation remaining. Now it has topped up the fund.
HP said for the next full financial year it will return 75 per cent of free cash flow, with a 10 per cent proposed rise in the planned quarterly dividend.
This all sounds like a massive plaster to cover over wounds caused by unexpected results in the print supplies business after HP badly forecast sales and was left nursing rising inventory that is costly to manage and clear. Once a cash cow, supplies are now a noose around its neck. Results have not been as expected in Q1, Q2 or Q3.
Weisler leaves next month, and though we understand his exit was for personal matters, related to a family health issue, the spectre of job cuts has cast new light on the situation, according to one senior industry figure close to HP.
"Dion is a man with great principles," said our contact, who considered that maybe a board-level disagreement over this strategy caused the change at the top. This is, of course, simply speculation.
As for EMEA boss Nick Lazaridis, who left last month, sources told us he carried the can for three-quarters of missed sales targets in the region.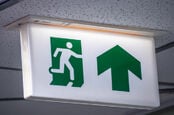 HPE waves bye-bye to 36 years of executive experience
READ MORE
HP has cut out a layer of regional management and El Reg is aware of some big names that have left as a result – some readers may remember HPE did something similar a few years back. Country managers will now report to a global sales chief.
To add to HP's worries, Wall Street analysts are watching cautiously as the PC division that has propped up the business, accounting for two-thirds of revenues, is predicted to drop off as the consumer sector remains gloomy and the long-running Windows 10 cycle reaches conclusion next year. ®