What? No way. Apple? Censoring iOS 13 to appease China? Gosh. How shocking. Who'd have thought it?
iGiant declines to Taiwan on for Hong Kong and Macau
Apple is under fire for kowtowing to Beijing and removing references to Taiwan in the localized versions of iOS 13 for Hong Kong and Macau in China.
Yes, the same China that just pressured America's NBA into issuing a groveling apology for a team manager's tweet in support of Hong Kong. The same China that loves to censor any mention of the massacre at the Tiananmen Square pro-democracy protest on June 4, 1989; the same China accused of "murdering members of the Uighur Muslim minority and the Falun Gong religious group to harvest their organs"; and the same China where Apple manufactures a load of its gear. That China.
The Cupertino iPhone maker, fearing some kind of retribution from Beijing, censored specific iOS 13 builds by removing the option to insert the Taiwan flag as an emoji, presumably because Taiwan's a bit of a hot topic with China. The operating system was, for what it's worth, released mid-September. Fans have now picked up on the move, and pointed out the censorship:
Apple's region lock of ROC Taiwan flag 🇹🇼 extended beyond CN devices to HK and Macau's in the iOS/iPadOS 13.1.1 rollout. Interestingly, the new lock only affects the keyboard, and has no problem displaying and is easy to bypass by switching region. https://t.co/RVRKNQyc1l pic.twitter.com/8eQXambiAQ

— 王博源 Wang Boyuan (@thisboyuan) October 3, 2019
Some also had harsh words for CEO Tim Cook:
How can you delete the Taiwan Flag in iOS 13? For users in the Hong Kong region??? How can you erode the basic freedom of people in HK?

— freeman hk (@HkThefreeman) October 6, 2019
This is also the same Apple that glossed over the Chinese government's exploitation of iOS bugs to spy on Uyghur Muslims.
While iOS loyalists can regain access to the flag emoji by switching their keyboard layout to another region, the decision by Apple appears to have struck a nerve given current global events, particularly given Apple's history of acquiescing to the Chinese government's demands in order to keep doing business on the mainland.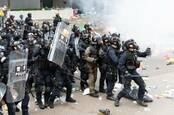 Here's that hippie, pro-privacy, pro-freedom Apple y'all so love: Hong Kong protest safety app banned from iOS store
READ MORE
Only last week Cook & Co faced a storm of criticism when it pulled the HKmap app from Chinese users. The application allowed Hong Kongers to avoid clashes between protesters and police. Apple initially claimed this software was illegal, but then relented and recertified the app in a dramatic U-turn after public outrage.
With the ongoing pro-democracy protests, and violent crackdowns by the cops and government thugs, taking place throughout Hong Kong – sparked by China's creeping authoritarianism over the former British crown colony – Taiwan, which itself has resisted control from the mainland, has been of the louder voices in the region supporting the protests.
Apple did not respond to a request for comment on the matter.
This isn't the first-time Apple has been caught censoring references to Taiwan at the behest of Beijing. Last year a crash that plagued some versions of iOS 11 was found to be related to a search filter Apple placed on the word 'Taiwan' for some users. ®
PS: The White House today added 28 Chinese organizations – which are linked to human rights abuses of Uighurs and other predominantly Muslim minorities in Xinjiang – to a United States blacklist, effectively blocking those entities from buying American products.