This article is more than 1 year old
OpenRAN fan Vodafone trials white box radio tech in UK
Wants to break its reliance on the Big 3
Vodafone is testing radio technology in Britain as it seeks to cut the cost of building 4G and 5G networks and at the same time dilute the dominance of Huawei, Ericsson and Nokia.
The telco unveiled proposals today to trial Open Radio Access Network's (OpenRAN) technology in rural parts of the UK.
OpenRAN is a venture run by network operators, set up under the Facebook-headed Telecom Infra Project.
The OpenRAN initiative is intended to reduce the expense of providing internet and voice services by standardising the design and functionality of hardware and software in the radio area network, increasing the number of companies that can supply components for the infrastructure that carries mobile traffic.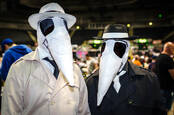 US lobby group calls for open standards to fight Huawei 'threat'
READ MORE
Voda noted "the global supply of telecom network equipment has become concentrated in a small handful of companies over the past few years." Telco vendor consolidation means just a few major players remain: Nokia, Ericsson and Huawei. All three stand to lose out if standardised interfaces and interoperability gains traction.
The UK mobile operator said it had started working with "a number of new vendors supplying OpenRAN technology" including American firms Parallel Wireless and Mavenir, and UK-based Lime Microsystems for Open CrowdCell.
This comes just weeks after a US lobby group called for open standards under the auspices of a separate open networking initiative, the Open Radio Access Network (O-RAN) Alliance. Nokia and Ericsson are both members of O-RAN, with Huawei being the sole "hold-out". Huawei said in February that it didn't plan on joining and that it was not persuaded of the merits of white-box hardware and standardised interfaces.
Nick Read, CEO of Vodafone Group, said: "We are pleased with trials of OpenRAN and are ready to fast-track it into Europe as we seek to actively expand our vendor ecosystem. OpenRAN improves the network economics enabling us to reach more people in rural communities and that supports our goal to build digital societies in which no one is left behind."
Kester Mann, analyst at CCS Insight, said standardising the design of radio access networks could bring about crucial cost-savings for operators. "This is particularly relevant in the 5G-era as telcos prepare to part with billions of euros on new infrastructure, despite uncertain return on this investment.
"Encouraging the emergence of new suppliers would give operators greater choice in a far healthier ecosystem. Disrupting the status quo could, in particular, make the economics of network deployment stack up in rural areas or hard-to-reach locations, for which roll-out may not currently be viable or cost effective."
He added Vodafone was in the process of achieving "ambitious cost-saving targets".
Vodafone is looking to flog off its towers business by the end of next year. The towers unit has been forecast by Vodafone to have earnings before interest, taxation, depreciation and amortisation (EBITDA) of around €900m in this financial year. The sale proceeds are to be used to help pay to down Vodafone's debt.
The British government has voiced its concerns about the lack of supply diversity in the local telecommunication infrastructure.
The department for Digital Culture Media and Sport has warned (PDF) too much trust is placed in too few vendors.
Earlier this year, the Intelligence and Security Committee also warned that excluding Huawei from the UK's 5G network infrastructure - as the US government has been pressing for - would harm resilience and "lower security standards."
"Limiting the field to just two [vendors] would increase over-dependence and reduce competition, resulting in less resilience and lower security standards. Therefore including a third company - even if you may have some security concerns about them and will have to set a higher bar for security measures within the system - will, counterintuitively, result in higher overall security," it found.
The British government has repeatedly deferred its decision on whether or not to ban Huawei equipment from 5G networks in the UK. ®