This article is more than 1 year old
That lithium-ion battery in your phone or car? It has just won three chemists the Nobel Prize
Goodenough for Goodenough as boffin is still working at 97
The Nobel Prize in Chemistry has been awarded to three pioneers in the field of lithium ion batteries, which form the power storage unit of most modern technology.
At 97-years-old, John Goodenough, an engineering professor at The University of Texas, is the oldest person to win the Nobel Prize yet. Goodenough is joined by M. Stanley Whittingham, 77, a professor of chemistry and materials science at Binghamton University, and Akira Yoshino, 71, a professor at Meijo University, Japan. The three Nobel laureates will equally share the cash prize of nine million Swedish krona, a little over $900,000 or £740,000.
Lithium ion batteries have revolutionized our lives. Having a tiny chemical hub nestled inside phones and computers has made technology portable. More powerful rechargeable batteries have also made it possible to develop electric cars or store cleaner energy from solar and wind power.
Since they entered the market in 1991, "they have laid the foundation of a wireless, fossil fuel-free society, and are of the greatest benefit to humankind," according to the Royal Swedish Academy of Sciences, the organisation that awards the Nobel Prizes.
Lithium ion batteries are made up of three main components: two electrodes, an electric circuit, and electrolyte fluid. The electrodes - a negatively charged cathode and a positively charged anode - sit inside a volume of electrolyte fluid and are connected to an electrical circuit.
Negative lithium ions flow from the anode to the cathode, producing current through the circuit to provide electrical power. When positive lithium ions flow in the other direction, from the cathode to the anode, the chemical batteries recharge so they're ready to dispense current again when needed.
The push for lithium-ion batteries began in the 1970s. Whittingham began by fashioning the cathode in a lithium battery using titanium disulphide, a transition metal with high electrical conductive properties.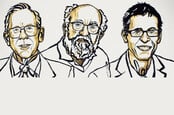 A trio of boffins scoop the Nobel Prize in physics for the first exoplanet discovery and big bang model
READ MORE
Goodenough stepped in to make the batteries more powerful by boosting the voltage between the cathode and anode and replacing the cathode material with a metal oxide instead of metal disulphide. Yoshino built on both their research to develop the first commercially viable lithium-ion battery in 1985. By 1991, Asahi Kasei, a Japanese materials science company, and Sony released the first lithium-ion battery to market.
"I am overcome with gratitude at receiving this award, and I honestly have so many people to thank I don't know where to begin," said Whittingham. "The research I have been involved with for over 30 years has helped advance how we store and use energy at a foundational level, and it is my hope that this recognition will help to shine a much-needed light on the nation's energy future."
"Live to 97 and you can do anything," said Goodenough. "I'm honored and humbled to win the Nobel prize. I thank all my friends for the support and assistance throughout my life."
The Nobel Prize in Chemistry comes after the announcement of the Nobel Prize in Physics for the discovery of the first exoplanet and the study of the early universe.®