This article is more than 1 year old
Scrambling for cloud relevance, Oracle hires... 2,000? Yes, that sounds like a nice round number
Let's all pretend that we don't remember the layoffs in March
What Larry snatcheth away with one hand, he giveth with another. Oracle is hiring a couple of thousand infrastructure services sales bods and has promised to swing open its data centre doors to more cloud regions.
Big Red said last night it is seeking 2,000 newbies for roles including software development, cloud operations and business operations, just months after it clipped the infrastructure cloud team in March.
Due the anticipated weight of the incoming numbers, Oracle assured us, it is to sign off "additional real estate investments" to house the swelling ranks of Oracle's Cloud Infrastructure team. The new positions will be based in Seattle, San Francisco's Bay area and India.
"Cloud is still in its early days with less than 20 per cent penetration today, and enterprises are just beginning to use cloud for mission-critical workloads," said Don Johnson, exec veep for Oracle's cloud biz.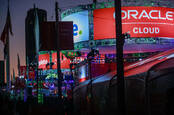 Court drama: Did Oracle bully its customers into the cloud? Nine insiders to blow the whistle
READ MORE
The cloud ship has started to sail and Larry's lot are in a small dinghy trying to catch up: in 2018 IaaS grew 31.3 per cent globally to $32.4bn, according to stats by Gartner, and Oracle didn't feature in the top five biggest sellers.
Amazon was the clear number one with revenue of $15.495bn, up 26.8 per cent; Microsoft remained second with $5.038bn, up 60.9 per cent; Alibaba was third with $2.499bn, up 92.6 per cent; Google jumped 60.2 per cent to $1.314bn; and in fifth was IBM with $577m, up 24.7 per cent.
Gartner noted that "cloud market consolidation favours the large and dominant players". Size matters in the cloud.
Oracle has around 40,000 cloud customers in 16 regions, and is planning to open up 20 more regions by the end of 2020. The company has 430,000 customers worldwide.
At its recent OpenWorld gathering in the US, Oracle rolled out a bunch of cloud-based features including automated security services, autonomous Linux and some new data services.
Johnson at Oracle said the "aggressive hiring and growth plans are mapped to meet the needs of our customers". ®