If humans are to go beyond the Moon, they must rely less on ground control and more on AI systems to perform operations such as flying, and conduct scientific experiments more autonomously, according to a NASA paper [PDF] out this week.
"Future missions to Mars will require crew and ground to operate independently from Earth-based Mission Control," Jeremy Frank, a Group Lead of Planning and Scheduling Group, in the Intelligent Systems Division, at NASA Ames Research Center in Mountain View, California, wrote in his paper. "The goal is to employ AI software to help astronauts carry out their missions more autonomously."
NASA has set its eyes on sending the "first woman and next man" to the Moon by 2024 and using that as a stepping stone to Mars. The American agency has proposed a new lunar habitat known as the lunar Gateway, a spaceship that will orbit the satellite, providing scientists with an opportunity to access more of its rocky surface than previous missions. Smaller than the International Space Station, it'll house up to four astronauts.
The Lunar Gateway will be largely made up of four components: a habitat for the explorers to live, an airlock system to let them in an out of the spacecraft, a power propulsion vessel to travel to the Moon, and a logistics hub to accept cargo shipments.
"Small crews cannot take on all Gateway functions performed by ground today, and so vehicles must be more automated to reduce the crew workload for such missions," the paper stated.
Astronauts are expected to occupy Gateway only for a few months and the spaceship will have to continue running by itself in periods when the crew has returned back to Earth. NASA hopes that it will be able to execute operations autonomously for up to 21 days without the help of ground control by employing robots.
AI algorithms will be applied to three main areas: crew autonomy, vehicle system management, and autonomous robots.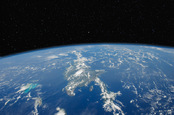 HPE's Eng Lim Goh on spaceborne computers, NASA medals – and AI at the final frontier
READ MORE
Crew autonomy will let astronauts carry out their missions more smoothly. Vehicle system management focuses on turning the Gateway into a self-managing system, and it will be particularly important when no humans are aboard. Finally, autonomous robots operating alongside humans will also help fulfill the aforementioned objectives.
When applied to the Lunar Gateway, Frank envisions using AI to monitor, plan and execute programs, and detect and possibly fix faults. A few examples include using software to analyse water quality to provide clean drinking water or a flight controller to display information about the spacecraft's current conditions, much like a car's dashboard.
"Due to the mission-critical nature of human spaceflight, autonomy technology must be robust and resilient, both to changes in environment, faults and failures, and also the somewhat unpredictable nature of human-machine collaboration. Specialized forms of automated reasoning and machine learning are key technologies to enable fault management," the paper said.
The Gateway project will allow NASA to put new technologies to the test. "And then we will use what we learn on and around the Moon to take the next giant leap - sending astronauts to Mars," said Frank. ®
Similar topics