This article is more than 1 year old
SAP's CEO Bill McDermott quits: Will hand over to co-captains for Next Generation reboot
Subspace communication over, enterprise commander out
SAP's chief executive Bill McDermott will not renew his employment contract at the German database software maker.
The exec has confirmed that after nearly a decade at the top of the company, he will remain on board in an advisory capacity until the close of 2019, when he finally relinquishes all control.
"Every CEO dreams of being able to transition a company to its next generation from a position of significant strength," said McDermott in a prepared remark.
Just like Oracle, SAP has opted to split the CEO roles between two people in a decision already approved by the board. Jennifer Morgan, who was president of the SAP's cloud business - succeeding Robert Enslin - and oversaw Qualtrics, SuccessFactors and Concur, among other things, takes one half. The other goes to Christian Klein, who was most recently COO.
Morgan, who rocked up at SAP in 2004, has obviously had a close on eye on SAP's cloud sales, considered to be SAP's future. Klein, who joined as a student two decades ago also ran SAP s/4HANA, the flagship ERP product that is famous for being a complex and pricey piece of integration work.
McDermott didn't really give an explanation for why the time is right to exit the business he joined in 2002 as head of North America, but he slumped into a sort of teary eyed sentimentality when he reviewed his time that also included running customer operations.
"When you look at where we were and where we are, I simply could not be prouder of what this company has achieved over the pst decade," he said. "Now is the moment for everyone to begin an exciting chapter."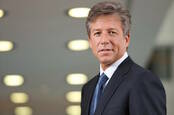 SAP CEO McDermott loses AN EYE, almost his life in horror plunge
READ MORE
SAP released preliminary Q3 results yesterday, as it was saying goodbye to the big Mc, with revenue up 13 per cent year-on-year to €6.79bn for the three months ended 30 September.
Those all important cloud sales numbers were up 37 per cent $1.79bn, software licensing revenues fell 1 per cent to €930m and software support was up 5 per cent to €2.91bn. Net profit bounced 15 per cent to €1.26bn, no doubt helped by the major restructure that started this year, even though SAP claimed that saving costs was not the rationale.
SAP said that under McDermott's watchful gaze, key metrics from market value to revenue and profit went up. In 2009 (PDF), SAP's revenue was €10.664bn and operating profit stood at €2.588bn. As of last year, the top line had risen to €25.96bn and operating profit was €5.7bn.
It is worth mentioning that during McDermott's time as CEO, SAP bought more than 50 businesses including Business Objects for $6.78bn; Sybase for $5.8bn; SuccessFactors for $3.4bn; Aribe for $4.3bn; Concur Technologies for $8.3bn; and most recently Qualtrics for $8bn.
McDermott became co-CEO with Jim Hagemann Snabe in 2010 and was made sole CEO in 2014, the same year SAP put its entire business applications suite online and started selling the lot through cloud subscriptions, which at time had just begun to edge into SAP's original complex licensing model, the way it made its money.
The German ERP and CRM business has been pushing hard to convert more of its customers to cloudy licences and earlier this year started a €950m restructure aimed at "updating" skills in the areas "that we want", as McDermott put it at the time.
Market capitalisation went from $40.5bn in late 2009 to $138.94bn today. ®