This article is more than 1 year old
SUSE, what? Adoption's still growing, shrugs OpenStack Foundation
Attention has shifted away from VMs, however, COO tells El Reg
OpenStack chief operating officer Mark Collier told The Reg that while SUSE's decision to abandon its OpenStack Cloud product is "obviously disappointing", adoption is "strong and growing".
SUSE's decision that it will "cease production of new versions of SUSE OpenStack Cloud" and "discontinue sales of SUSE OpenStack Cloud" is significant, given that it had a seat on the OpenStack board as a Platinum member – one of only eight companies which commits to provide major funding and full-time resources to the OpenStack Foundation, the others being AT&T, Ericsson, Huawei, Intel, Rackspace, Red Hat and Tencent. SUSE will now "carefully transition our board position and sponsorship level" according to a statement sent to The Reg, though it promises continued involvement at some level.
It is tempting therefore to treat Collier's remarks to The Reg as damage limitation, but in this case he has a point. OpenStack, which is a set of projects that enables users to run private clouds, has a huge customer base and its market is growing by about 20 per cent a year, according to recent figures and projections. There is not much competition if you want to run an open-source private cloud, and there can be good reasons to do so.
In 2017, Adobe (despite announcing a love-in with Microsoft Azure the previous year) said that it saved around 30 per cent by migrating an Advertising Cloud service from AWS to OpenStack. Another driver is to avoid vendor lock-in, cited by 83 per cent of organisations in a 2018 user survey as a reason for adoption.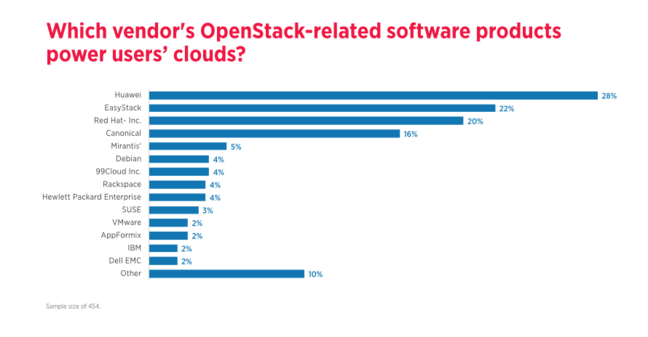 OpenStack software providers are dominated by Huawei and EasyStack, then Red Hat and Canonical (click to enlarge)
China loves OpenStack, defending perhaps against political as well as vendor lock-in. The two biggest providers of OpenStack software are China-based Huawei and EasyStack, between them accounting for 50 per cent of deployments. Next is Red Hat, then Canonical. SUSE claimed just 3 per cent of the market, according to this same survey.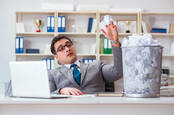 SUSE tosses OpenStack Cloud to double down on application delivery
READ MORE
This is not the whole story, though. OpenStack remains important, but attention is shifting away from VMs to containers, and in particular Kubernetes (K8s). OpenStack is perceived more as a VM-based platform. "OpenStack is more VM-based infrastructure. I don't think they offer Kubernetes clusters," GitLab CEO Sid Sijbrandij said, rather inaccurately, when asked about GitLab's support for the product.
Similarly, Puppet CTO Nigel Kersten told The Reg: "I think a lot of the demand that was driving OpenStack, that energy and attention is going towards Kubernetes."
Container yourselves
This accounts for SUSE's change of direction. Products it will focus on instead of SUSE OpenStack Cloud include its CaaS (Container as a Service) Platform, based on K8s, and SUSE Cloud Application Platform, based on Cloud Foundry and with K8s deployment as an option. The model is that once set up, developers can simply code and deploy with auto-scaling built in.
Has OpenStack missed the K8s wave? "More than half our users run K8s on OpenStack," said Collier. In addition, "with all the big customers who run OpenStack, the OpenStack services are in containers," he told us. "If you look at someone like CERN, they have hundreds of thousands of cores of computer managed by OpenStack and then hundreds of clusters of K8s running on top of OpenStack using the OpenStack Magnum installer," he added.
In this context, several OpenStack projects are interesting. Magnum, for example, provides an API that automates K8s provisioning on OpenStack; Ironic does bare-metal provisioning; and Airship automates OpenStack and K8s deployment.
According to the user survey: "Within the deployments that are using Kubernetes to manage applications on OpenStack, there are notable increases in adoption of certain OpenStack projects, such as Ironic, as users turn to OpenStack to run container orchestration on bare metal. Thirty-seven per cent of OpenStack deployments that indicated they are running Kubernetes to manage applications indicated they are running Ironic in production."
The direction here is to abstract away the VMs and focus on provisioning K8s ready for application deployment. Could this be even better integrated into the core of OpenStack? "It is needed; it is happening," said Collier.
Will SUSE leave a gap in the OpenStack team? Collier made the point that skilled OpenStack developers are in high demand. "When one company decides to do less, the individuals with that expertise typically land at another organisation very quickly."
OpenStack, then, is not currently under threat as a useful technology, though in principle it is vulnerable if the big cloud vendors grab more share of IT infrastructure, as seems likely. The smaller cloud vendors may themselves run OpenStack.
Either way, though, OpenStack is becoming less interesting, unless you happen to be in the business of provisioning cloud infrastructure. The same may well happen to K8s itself. SUSE's move may well be a smart one. ®