This article is more than 1 year old
YouTube thinkfluencer Siraj Raval admits he plagiarized boffins' neural qubit papers – as ESA axes his workshop
Oops I did it again. And by it, we mean, ripped people off
Internet celeb Siraj Raval's reputation continues spiraling downward – after he admitted plagiarizing real scientists' work to produce a paper on neural qubits.
Raval – who has 700,000 YouTube subscribers and 70,000 Twitter followers – was last month accused of scamming hundreds of students, who subscribed to his online machine-learning training course at $199 a head. As he taught classes on how to use AI in various industries, from finance to transportation and logistics, each week, netizens uncovered a growing list of controversies.
First, he enrolled more than 1,200 students at once, whereas he had promised the course would be limited to 500 pupils to guarantee he'd have time to provide sufficient support for everyone. Second, a lot of the code cited during the course was cut'n'pasted from other people's GitHub repositories with the bare minimum of attribution. Third, the course itself was pretty crap, and to top it all off, there wasn't even an official refund policy in place.
Now, he has been caught stealing significant chunks of other people's research for one of his own papers. Titled "The Neural Qubit," his mind-boggling paper discusses the concept of uniting deep-learning with quantum mechanics to create "a novel quantum neural network architecture" – yet it includes whole sections just cut'n'pasted from two papers written by legit boffins.
Raval submitted this cobbled-together research to viXra, an online platform that doesn't really have any submission rules and isn't peer reviewed. His paper appears to have been taken down, though a copy can be found here [PDF].
Andrew Webb, a machine-learning engineer at virtual reality biz vTime, uncovered foul play when he submitted snippets of Raval's paper into Duplichecker, a piece of free online software that checks documents for plagiarism. It revealed that large passages of Raval's screed were lifted from research papers written by eggheads at Canadian quantum computing startup Xanadu and the US super-college MIT [PDF], and Texas A&M University [PDF].
Webb investigated Raval's paper after watching one of the AI celeb's online videos:
So in @sirajraval's livestream yesterday he mentioned his 'recent neural qubit paper'. I've found that huge chunks of it are plagiarised from a paper by Nathan Killoran, Seth Lloyd, and co-authors. E.g., in the attached images, red is Siraj, green is original pic.twitter.com/UvJ65ldpuM

— Andrew M. Webb (@AndrewM_Webb) October 12, 2019
"I hadn't seen Killoran's paper before, but when I saw [Raval]'s paper I suspected plagiarism quite quickly," Webb told The Register on Sunday. Webb spotted that the figures and equations in the YouTuber's paper were of low quality, hinting that they may have been screenshots taken from another paper.
The paper also introduced odd terms like "quantum door" or a "complicated Hilbert space." "In this case, 'quantum door' came from 'quantum gate,' and 'complicated Hilbert space' from 'complex Hilbert space'," said Webb. "Unfortunately for Siraj, in this context, 'gate' and 'complex' have precise technical meanings, and the phrases become nonsense after the substitution."
These bizarre and hilariously bad synonyms made it more difficult for the plagiarism software to catch out Raval. He also changed the word order in some sentences and removed references. The code described in his paper, and posted on his GitHub profile, was also taken from Xanadu. Raval has now deleted the code and apologized on Twitter.
I've seen claims that my Neural Qubit paper was partly plagiarized. This is true & I apologize. I made the vid & paper in 1 week to align w/ my "2 vids/week" schedule. I hoped to inspire others to research. Moving forward, I'll slow down & being more thoughtful about my output

— Siraj Raval (@sirajraval) October 13, 2019
The confession cut little ice:
"I made the vid & paper in 1 week". Any Siraj fans who are reading this, please realise, a paper like the one he plagiarised is sometimes the result of a year or more of work on the part of a whole group of people, not the work of 1 man in a week

— Andrew M. Webb (@AndrewM_Webb) October 13, 2019
Raval blamed his mistakes on a grueling work schedule that involved posting two to three videos on YouTube a week for nearly four years. "Monitoring social media metrics and aiming to satisfy an ever growing audience by myself has taken a toll on my mental health," he said.
"Early next year I'll take time off to reflect and plan healthier ways to serve others."
We asked Killoran, lead author of the Xanadu-MIT paper, for comment, and he declined.
More control-C, control-V – and a cancelled ESA workshop
The quantum papers are not the only materials Raval has ripped off, it seems. Gant Laborde, a student on Raval's course and chief innovation officer at software maker Infinite Red, claimed on Monday some of Raval's course files were lifted from other websites. For instance, below is a comparison of the YouTuber's machine-learning notes for pupils, and wording found on a marketing website:

Left: A screenshot from a lesson from Raval's online ML course ... Right: A screenshot taken from a website from the marketing company Single Grain. Save for a few word changes here and there, the text is pretty much identical
Raval has spent years building his reputation as an AI educator. His flashy YouTube videos are well edited and presented. His wide-eyed enthusiastic nature and welcoming can-do attitude attracted budding engineers hoping to break into the extremely lucrative world of machine learning. He began to accrue a large following online, some of which included leading AI academics and engineers.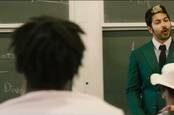 YouTuber charged loads of fans $199 for shoddy machine-learning course that copy-pasted other people's GitHub code
READ MORE
All of this unlocked more opportunities to legitimize himself further. He dreamed of pitching a documentary series to Netflix, and was due to present a workshop at the European Space Agency (ESA) in December. A Netflix spokesperson confirmed to The Register it wasn't working with Raval, and the ESA has cancelled the whole workshop altogether.
"The situation is as it is. The workshop is cancelled, and that's all," Guillaume Belanger, an astrophysicist and the INTEGRAL Science Operations Coordinator at the ESA, told The Register on Monday.
Raval isn't about to quit his work any time soon, however. He promised students who graduated from his course that they would be referred to recruiters at Nvidia, Intel, Google and Amazon for engineering positions, or matched with a startup co-founder or a consulting client.
In an unlisted YouTube video recorded live for his students discussing week eight of his course, and seen by El Reg, he read out a question posed to him: "Will your referrals hold any value now?"
"Um, yeah they're going to hold value. I don't see why they wouldn't. I mean, yes, some people on Twitter were angry but that has nothing to do with… I mean… I've also had tons of support, you know. I've had tons of support from people, who, uh, you know, support me, who work at these companies.
"Public figures called me in private to remind me that this happens. You know, people make mistakes. You just have to keep going. They're basically just telling me to not to stop. Of course, you make mistakes but you just keep going," he claimed.
When we asked Raval for comment, he told us:
I've hardly taken any time off to relax since I first started my YouTube channel almost four years ago. And despite the enormous amount of work it takes to release two high quality videos a week for my audience, I progressively started to take on multiple other projects simultaneously by myself – a book, a docu-series, podcasts, YouTube videos, the course, the school of AI. Basically, these past few weeks, I've been experiencing a burnout unlike anything I've felt before. As a result, all of my output has been subpar.
I made the [neural qubits] video and paper in one week. I remember wishing I had three to six months to really dive into quantum machine-learning and make something awesome, but telling myself I couldn't take that long as it would hinder my other projects. I plagiarized large chunks of the paper to meet my self-imposed one-week deadline. The associated video with animations took a lot more work to make. I didn't expect the paper to be cited as serious research, I considered it an additional reading resource for people who enjoyed the associated video to learn more about quantum machine learning. If I had a second chance, I'd definitely take way more time to write the paper, and in my own words.
I've given refunds to every student who's asked so far, and the majority of students are still enrolled in the course. There are many happy students, they're just not as vocal on social media. We're on week 8 of 10 of my course, fully committed to student success.
"And, no, I haven't plagiarized research for any other paper," he added. ®