This article is more than 1 year old
Getronics CEO on HMRC winding-up petition: An 'embarrassing' blip with cash in the wrong places
Corporate expansionism to blame for issues, claims bossman
Getronics' CEO has opened up on its recent and "very, very embarrassing" winding-up petition from HMRC over non-payment of VAT, claiming it was an unintended by-product of corporate expansionism.
As revealed by The Register late last month, the services integrator claimed multiple acquisitions and subsequent restructuring led to "operational issues", but vowed to resolve the situation promptly.
Nana Baffour, the bossman at Getronics, told us the debt owed to the British tax collector has been settled, and that HMRC is "no longer a claimant".
So how did a company that has a $1.3bn turnover find itself in this sticky position?
"It is very, very embarrassing," he said. "As you know, we've built a $1bn-plus business in the last two-and-a-half years, significantly based on acquisitions, a global business, integrating.
"One of the challenges, as with any global business, is that we have to get cash in certain locations at certain times. We run 23 countries, so frankly it was one of those very unfortunate things where our processes didn't work the way [they] should have worked."
Some of the back-office functions have been consolidated to fewer "administrative hubs" as can happen in any chunky tie between organisations as management, in Baffour's words, look for "synergistic value creation".
Baffour, via Brazilian-based Bottega InvestCo, bought Getronics in 2017 for €220m with backing from private equity houses White Oak and Permira. He subsequently signed off on the purchase of US-based managed service provider Pomeroy and ITS Overlap in France. The group turns over $1.3bn a year.
'Concerned'
Supply chain sources told us Getronics similarly has had problems paying tech suppliers on time, which – along with the HMRC debacle – has caught the eye of credit insurers.
"The picture of people being concerned, that is all legitimate," said Baffour said. "Unfortunately HMRC feeds the fire.
"As part of our integration we had to embark on significant cost cuts, and you know in Europe it is quite expensive to achieve cost cuts because of severance and so forth, so we have definitely been managing, as part of our strategy, suppliers. And so that coupled with some of the processes that are not working… has resulted in a situation where I think some of our suppliers have not gotten paid as they should have."
He again pointed to its rapid growth and plans to "streamline" the group as the cause.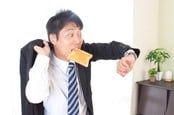 HMRC slaps Getronics with winding-up petition: It'll be sorted out today, blurts tech services firm
READ MORE
"I think it is very unfair if people want to look at individual issues and try to metastasise that into something more. If we are speaking five years from now, and having this [same] discussion, OK, I can accept that. I wouldn't want to minimise some of the anxiety that some of our suppliers may have felt, I think it is very legitimate. But by the same token, I think that some of it is without context, and maybe we haven't done a great job about communicating some of the internal processes that we've been going through, and we take the responsibility for that."
Sources told us Euler, the UK's largest insurer, has reduced lines of covers for Getronics, which only adds pressure to the business's cash flow.
"The thing that you have to understand about the credit insurers is that – and people don't fully appreciate it – every time there is a change of control in a company, there is a series of work that the various credit insurers have to understand – who are the new owners, what is the support, what is the financial situation," Baffour said.
Getronics has a Dutch and US holding, "so when we come down to the local level, we have to educate the credit insurers and that education sometimes takes time. And so in the meantime while you are trying to educate people, they do what you would expect them to do which is to say 'OK, we'll hold off now until we better understand the picture'. So again, people try to make it darker than it is."
Rivals in recent weeks claimed they received a batch of CVs from Getronics sales people following what one described as a "throttling" of the sales commission plan by the integrator.
Baffour said: "All of us know that the technology space is one the fastest growing [industries] and therefore there is a fight for talent all of the time and that is the backdrop we are fighting with."
Poaching
He accused some rivals of trying to poach his staff, but admitted there was also a reworking of how it pays sales staff. "Historically, the way that people were commissioned was all over the place," he said.
"What we've tried to do is simplify it. If you are a sales person, your value to the business is probably less revenue in terms of what you are bringing in than gross margin. We pay our bills with gross margin, we don't pay our bills with revenue or with pipelines that you build. So we've simplified the commission programme to be focused on gross margin, to be focused on services, and for some of those people that is new, that is not what they like because it is a change and so there is an element of that."
Sales folk at Getronics can earn more money, he insisted, but claimed some prefer to be at an employer where they "can make the most money for contributing the least".
Baffour told us the alterations his management are making to the company are in no way unique to Getronics.
"What I am saying is that a lot of our issues, even liquidity, are a function of the process changes we are going through. Again, it is more complex than people just say we have a liquidity issue, I think that is a bit simplistic. I do think that we have a lot of process improvement, integration, changes that we are doing, and, yes, in some ways, some of that has caused a strain on our liquidity because we are transforming and we need to invest."
With a complex group structure of a privately held entity, The Register has not been able to view Getronics' profit and loss accounts, and so cannot comment on the debt profile or the short-term trends.
Baffour refused to "get into debt profile" because there is "confidentiality", but insisted "that our lenders and equity holders are very supportive of what we are doing and working together with us to make sure that we do the appropriate investment in the business to support our clients and employees."
Suppliers are watching developments at Getronics very closely, given its size and rapid expansion. Baffour has been an entrepreneur for nearly two decades, investing in and selling data centre businesses and managed services providers. He may need all his experience to captain this tanker. ®