In solidarity with its broken email hosting, 123-Reg's '24/7' support lines also fall over
Domain-name slinger keeps mum amid hours-long multi-service outage
---
Updated 123-Reg, which promotes its "award-winning 24/7 UK support," as a selling point for its service, is suffering a sustained and ongoing email service outage – with Reg readers claiming the company has shut off its online support channels.
The outage began at around 1100 UTC and seems to have KO'd the entirety of their email systems, which are hosted for customers, leaving a trail of angry punters in their wake.
The 123-Reg status page had this to say about it at 1600 on Wednesday, timestamped to 1436:
We expect part of the affected mailboxes to be accessible again within the next hour, unfortunately at the moment we don't have an exact ETA for all but we're working towards making this interruption as short as possible. No email message that exists on the server or is being received while this is ongoing will be affected and no action from the customers side will be required.
Services remain disrupted as we publish this article.
Meanwhile, frustrated netizens posted their thoughts and feelings on Twitter, directing their fury at the British company and its lack of response to them.
Mine's been down intermittently since about 11 am - now gone completely! It's very frustrating!

— Linda 🕷️🖤🎪🇪🇺🇬🇧🇪🇪 (@LindaLembra) October 16, 2019
I apologise to my clients for the lack of emails today - my email provider has been less than forthcoming with a fix for their mail server outage, and as a result I cannot read or respond to emails.

Hoping @123reg have a miracle in store for me... #123reg #selfemploymentwoes

— Harley Counselling (@HarleyCounsels) October 16, 2019
@123reg The irony of my email subscription being renewed for a year today at a cost of £45 (!!) and not being able to access my business email all day is not lost on me. I will be expecting compensation for this loss of business. #123reg

— Harley Counselling (@HarleyCounsels) October 16, 2019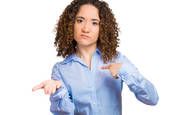 Congrats from 123-Reg! You can now pay us an extra £6 or £12 a year for basically nothing
READ MORE
123-Reg chiefly features on The Register whenever it suffers an outage, meaning it is a regular feature on these hallowed pages. However, a few weeks ago it managed to piss off its customers for a different reason when the hosting biz bought and then tried charging them for dot-UK web domains customers hadn't actually ordered – or even wanted. We later described this as an "approved scam".
The Register has asked 123-Reg's PR representatives to explain what caused the outage and why, and when its services will be back up.
We will update this article if we hear back from them, though judging by past (and current) performance we aren't holding our breath. ®
Updated to add
By the time you read this, the outage should be mostly, ish, kinda, addressed.
"We apologise to customers who have experienced problems accessing their emails today," a spokesperson for 123-Reg told us this evening.
"We take issues like this extremely seriously. We have now fixed the issue and the remaining mailboxes are currently being brought back online, however this process may take a short time to complete."