IBM: Why yes, Red Hat is doing great. Thanks for asking. The rest of Big Blue? Sure, wait – someone's at the door...
Fantastic quarter: Sales, down. Profit, down. Business as usual
---
IBM is talking up the success of its Red Hat as Big Blue continues its efforts to ax losing businesses.
The enterprise IT giant made its newest big acquisition a central focus of its third-quarter financial numbers [PDF], published Wednesday. For the three months to September 30:
Revenues of $18bn were down 3.9 per cent from $18.8bn in Q3 FY2018, and short of the $18.2bn analysts had forecast. That makes this latest quarter the fifth in a row of shrinking revenue.
Net income was $1.67bn, down 38 per cent from $2.7bn last year.
Earnings per share of $2.68 (non-GAAP) topped analyst predictions of $2.66. GAAP EPS of $1.87 missed by $0.35.
Red Hat revenues were $371m, up 19 per cent, we're told, while Red Hat's new home group, Cloud and Cognitive, logged $5.3bn in total sales for a 6.4 per cent gain. IBM closed its $34bn acquisition of the Linux distro giant this year.
Global Technology Services revenue was $6.7bn, a 5.6 per cent decline as IBM continues to see that part of its business shrink amidst the migration to cloud.
Systems revenue was $1.5bn, down 14.7 per cent after IBM was only able to get a week of sales for its new z15 mainframe line before the quarter closed.
Global Business Services revenue of $4.1bn was a 1 per cent gain from the year-ago quarter.
Global financing revenues were $343m, down 11.7 per cent.
While we don't normally note capital expenditure, IBM's is down sharply both on the quarter (from $900m to $700m) and the year to date (from $2.8bn to $1.7bn) as Big Blue looks to cut costs and shave debt. To that point, IBM cut its debt by $7bn during the quarter.
"In the third quarter, as we continued to help clients with their digital reinventions, we grew revenue in our Cloud & Cognitive Software segment and in Global Business Services," said chairman, president, and CEO Ginni Rometty said of the earnings.
"Our results demonstrate that clients see IBM and Red Hat as a powerful combination and they trust us to provide them with the open hybrid cloud technology, innovation and industry expertise to help them shift their mission-critical workloads to the cloud."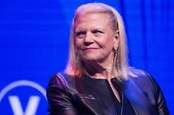 You've got (Ginni's) mail! Judge orders IBM to cough up CEO, execs' internal memos in age-discrim legal battle
READ MORE
Naturally, IBM is looking to play up the growth in Red Hat's sales, arguing that the software developer will take off with Big Blue's hardware and sales might behind it.
"We're very pleased," IBM senior VP and CFO Jim Kavanaugh told financial analysts on a conference call today, "and I think this is an instantiation and validation of the power of bringing IBM and Red Hat together and how it is better for our customers and shareholders overall."
Investors were not so pleased. The revenue miss pushed IBM shares down 5.41 per cent in after-hours trading. ®