Updated Three UK has suffered a nine-hour outage and counting, affecting 3G and 4G calls across the entire British Isles.
The mobile network operator, which boasts 11.7 million customers, has been down since around 11 last night judging by the volumes of angry tweets directed at it.
A quick squint at Down Detector shows thousands of people reporting that Three was down and out for the count.
In a statement posted to Twitter, where people without mobile data services couldn't read it, Three said it was "experiencing intermittent service" – something hotly disputed by angry people with, presumably, access to Wi-Fi or Ethernet connections.
In solidarity with the network outage, the main website also went down, making life extra difficult for fed-up people wanting to complain and find out when services were coming back.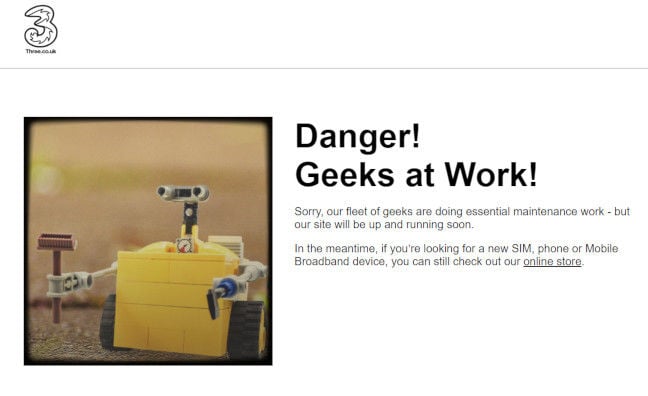 A selection of angry tweets follows because this is what journalists do these days when reporting outages and we're suckers for following the herd (not really, but these do amuse us).
@threeuk @ThreeUKSupport I shouldn't have to go to a 3rd party service to get an official update in your service. It's bad enough so many have been without service for so long, but having nothing on your OWN WEBSITE about the page is shocking customer service!

— tonkei (@tonkei) October 17, 2019
Just voice, text, and data...nothing important then. Possibly easier to say the entire network! Intermittent service would be a blessing, it's entirely absent #threedown #ThreeUK #threemobile

— Richard Rout (@RichardRout) October 17, 2019
There is still noone available. It's now working hours. And guess what...I cant call them as my sim not registered on the network to make any calls since 2am. And noone available on live chat. I only have a mobile phone

— Lady Lotte (@Ladylottebot) October 17, 2019
We have asked Three to explain what happened here and will update this article if the telco replies. ®
* Total Inability To Support Usual PhoneStuff
Updated at 09:10 UTC to add
Three got in touch to tell us: "Three is currently experiencing technical difficulties with our services across voice, text and data which means that some customers will be experiencing an intermittent service. Our engineers are working on the issue now to fix the problem as soon as possible. We are sorry for the inconvenience caused to our customers."
Updated at 15:14 UTC to add
They later rustled up another statement, which reads: "Following technical difficulties with our services across voice, text and data, some customers have experienced an intermittent service today.
"For the majority of customers, the network has been restored so they can make calls, send texts and use data. We are aware that some customers are still experiencing issues and our engineers are continuing to work to fix this. To help with the process we advise our customers to turn their phones off and on or turn airplane mode on and off, which may resolve the issue.
"The service is returning to normal, and we expect it to be resolved over the course of the day.
"We are sorry for the inconvenience caused to our customers."
Similar topics