This article is more than 1 year old
Luke, I am your father... which is why I must eject from JEDI decision, says US Defense Sec
Top brass beams aboard from $10bn IT brouhaha as it emerges son works for IBM
The US military's controversial JEDI cloud contract has seen another strange twist: the US Secretary of Defense has stepped back from the project as it emerged his son works for one of the bidders for the $10bn winner-takes-all deal.
Secretary Mark Esper made the announcement on Tuesday, saying that he would not have any input into awarding the massive 10-year single-vendor technology contract. His son Luke joined IBM, one of the corporations at one time hoping to land the deal, in February as a digital strategy consultant.
"Although not legally required to, he has removed himself from participating in any decision making following the information meetings, due to his adult son's employment with one of the original contract applicants," said Pentagon spokesman Jonathan Rath Hoffman.
"Out of an abundance of caution to avoid any concerns regarding his impartiality, Secretary Esper has delegated decision making concerning the JEDI Cloud program to Deputy Secretary Norquist. The JEDI procurement will continue to move to selection through the normal acquisition process run by career acquisition professionals."
JEDI – aka the Joint Enterprise Defense Infrastructure program – is under a special review after President Trump personally intervened in the project, and ordered Esper to take another look at the deal. Under the current terms, the Dept of Defense just wants one organization to provide and manage an entire cloud-based IT system for Uncle Sam's armed forces.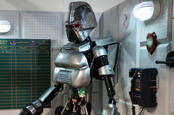 Pentagon makes case for Return of the JEDI: There's only one cloud biz that can do the job and it starts with an A (or rhymes with loft)
READ MORE
Various US corporations showed an interest in the contract, including Google, Amazon, IBM, Microsoft, and Oracle. But, given the scale of the project and the security requirements, and the fact IBM and Oracle were ruled out of the race earlier this year, it is highly likely Amazon or Microsoft will be chosen.
Obviously that didn't sit well with Oracle, and Big Red launched a series of legal challenges, claiming that the single vendor requirement is unfair, and alleged that Amazon hired two Pentagon staffers who were pivotal to the contract process.
Big Blue, on the other hand, seems to have largely accepted that it's not going to get the contract, which is what makes Esper's recusal noteworthy.
You may see this as a signal IBM is back in the game, and Esper is removing any potential conflict-of-interest issues involving the venerable IT firm, though it's more likely Esper is just doing that rare thing in politics today, and demonstrating some level of integrity.
That or someone was about to publicly point out his son's connection to the JEDI bid process. ®