Mysterious botched code upgrade breaks voicemail for unlucky AT&T punters for weeks
Device, server... something with electricity in it, possibly, blamed by US cellular giant
---
Some AT&T customers are locked out of their voicemails due to a buggy software upgrade.
Subscribers started complaining about the weeks-long blunder in the US telco giant's online support forums earlier this month. Messages such as "Service Not Available" or "Voice Mail unavailable" popped up on folks' cellphones whenever they tried to dial into their voice mail. The problem seems to affect any number of iOS and Android users across America.
"We're aware that some customers may be having difficulty retrieving their voicemail due to a vendor server problem," the telco confirmed on its message board. "We're in contact with the vendor as they work to fix it and apologize for any inconvenience this may cause."
An AT&T spokesperson told The Register on Thursday the cause of the breakdown was software related. "A recent software update to some devices may be affecting our customers' voicemail. We are working with the device manufacturer to issue a patch to resolve this and apologize for any inconvenience this has caused."
Confusingly, AT&T at times blames the maker of "devices" or "a vendor server" for the voicemail screw-up. Its PR spinners declined to comment specifically on what and where the problem is, and what's affected. Devices could mean handsets, or possibly, a backend system, aka this mysterious "vendor" server. Jay Peters over at The Verge similarly ran into a brick wall with AT&T yesterday on this point.
Meanwhile, back over in the AT&T forum, where gripes stretch 40-odd pages, one punter said the service has been broken since the end of September:
Click to enlarge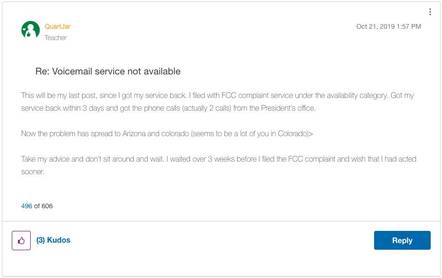 Outrage ... Click to enlarge
AT&T declined to say when the patch would be released. People can still leave messages in the knackered voicemail boxes, though subscribers may not always be able to replay them.
Meanwhile, the telco is also dealing with another issue: it's being sued for a whopping $1.8m for allegedly helping criminals in so-called SIM swap attacks.
Seth Shapiro, an adjunct professor at the University of Southern California, claims his AT&T account was hijacked by crooks who bribed the cellular giant's employees to transfer his phone number to another SIM, allowing the miscreants to access his online accounts secured via SMS.
Shapiro, of Torrance, California, alleges nearly two million bucks in cash and cryptocurrency was stolen from his web accounts as a result. He filed the federal lawsuit [PDF] to the District Court in the Central District of California on 17 October. ®
Similar topics
Broader topics