This article is more than 1 year old
Intel heralds record third quarter – despite being unable to meet customer demand for new chips
And tears wraps off yet another alleged Arm killer: this time, low-power x86 Tremont cores
Intel on Thursday reported $19.2bn in sales for its third quarter 2019 earnings, a quarterly record for the company.
The chip maker's financial results [PDF] were significantly higher than the average analyst prediction of $18.05bn. Shortly after the results were announced, Intel stock was up almost 5 percent in after-hours trading.
It may also have been lifted by word of a planned $20bn increase in the company's stock repurchase program – of the $10.7bn in cash generated by company operations in the third quarter, $4.5bn went to buying back 92 million shares of Intel stock. Net income was $6.0bn and the company's gross margin fell 5.6 percentage points of 58.9 per cent.
Earnings per share for the three months to September 29 came in at $1.35 (GAAP), representing a 2 per cent year-on-year decline, but ahead of company guidance and analyst expectations.
"Our third-quarter financial performance underscores our progress as our data-centric businesses turned in their best performance ever, making up almost half our total revenue in a record quarter," said Intel CEO Bob Swan in a statement. "Our priorities are accelerating growth, improving our execution and deploying capital for attractive returns. We now expect to deliver a fourth record year in a row."
The biz revised its full-year revenue prediction to $71bn, up $1.5bn from figures cited in July, and raised its GAAP EPS target to $4.42 per share.
Divisions
Intel's data-centric segment saw 6 per cent year-on-year revenue growth. Business units within that group include the Data Center Group ($6.4bn, up 4 percent), the Non-Volatile Memory Solutions Group ($1.3bn, up 19 per cent), Programmable Solutions Group ($507m, up 2 per cent), and its Internet of Things Group ($1bn, up 9 per cent).
The company's PC-centric Client Computing Group declined 5 per cent.
On Intel's conference call for investors, Swan said, "Q3 2019 was the best quarter in our company's history," and talked up the company's potential as IoT devices and ubiquitous processors create more and more data that needs to be dealt with.
Intel has had trouble supplying all the silicon its customers have wanted and Swan said Chipzilla has increased its output in response to strong demand. Despite record capital expenditures and increased investment in 14nm capacity, he said Intel still has work to so it doesn't constrain customers' growth.
"We're letting our customers down and they're expecting more from us," he said. "We are working hard to regain supply-demand balance but expect to continue to be challenged in the fourth quarter."
Swan said Intel has spent $30bn in capital expenditures over the past two years to improve 14nm capacity and has added 25 per cent wafer start capacity during that period. "We have more work to do to meet our customer demands in the fourth quarter and 2020," he said, adding that the company intends to increase wafer production another 25 per cent for both 14nm and 10nm in 2020.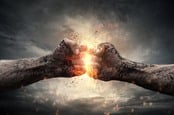 AMD sees Ryzen PCs sold with its CPUs in Europe as Intel shortages persist
READ MORE
With 10nm Ice Lake chips, long a problem for Intel, now making their way into the market, Swan said, "Intel's 10nm production era has begun."
Intel, he said, is on track to deliver a 7nm GPU in 2021 and is "well down the engineering path" toward 5nm production. Given past performance those dates look somewhat optimistic.
Separately, at the Linley Fall Processor Conference in Silicon Valley this week, Intel disclosed architectural details for its 10nm Tremont line, a forthcoming low-power x86 processor family. Chipzilla has struggled to compete against low-power Arm processor cores, and Tremont looks to take up where the discontinued Atom line and the more recent Goldmont and Silvermont lines left off. Perhaps it will make up some ground once it arrives.
Intel says Tremont cores will show up in dual-screen Microsoft Surface Neo slabtop next year as part of its hybrid Lakefield processor, which also contain higher-powered Ice Lake cores. So, essentially, Lakefield will contain a mix of low-power Tremont and high-performance Ice Lake CPU cores, kinda like Arm's big.LITTLE arrangement.
Chipzilla foresees Tremont in portable devices, IoT gear, and power-efficient data center boxes.
Tremont, Intel says, includes improvements in its instruction set, microarchitecture, and power management. "Tremont's unique 6-wide (2×3-wide clustered) out-of-order decoder in the front end allows for a more efficient feed to the wider back end, which is fundamental for performance," the biz said. ®