This article is more than 1 year old
Microsoft's cloud keeps printing cash, Surface not so much as Windows giant pockets $119m profit a day
Nadella says 'accelerating our innovation', we say...
Microsoft on Wednesday reported $33.1bn in revenue for its fiscal 2020 Q1, representing a 14 per cent increase over the same period last year, and profits of $10.7bn, up 21 per cent.
Its results, led by the company's Azure cloud service, were slightly better than analysts had expected: the average estimate came to $32.23bn, and so Microsoft's stock floated higher in after-hours trading.
Fittingly, CEO Satya Nadella credited demand for cloud services among large companies for the influx of cash in a celebratory statement that included something about "accelerating our innovation across the entire tech stack" alongside other words like "customers," "growth," and "opportunity."
A more succinct rendering would be, "It was a good quarter. We sold a lot of stuff. And we plan to continue doing so."
Cloud good, Surface not so good
For the three months to calendar September 30, earnings per share came to $1.38, representing a 21 per cent increase from FY19 Q1. Investors may also have appreciated the $7.9bn the company spent on dividends and the repurchase of shares, a 28 per cent increase year-on-year.
The Windows-Office-Azure biz saw its operating income reach $12.7bn, up 27 per cent. Redmond's Intelligent Cloud segment brought in $10.8bn in revenue, an increase of 27 per cent. Within that group, server products and cloud services revenue saw a 30 per cent revenue gain, thanks largely to Azure revenue growth of 59 per cent, and enterprise services managed a 7 per cent revenue increase.
Microsoft's productivity and business processes segment accounted for $11.1bn, a 13 per cent increase. The business groups responsible for that include: Office Commercial, which saw a 13 per cent revenue increase driven by Office 365 Commercial revenue growth of 25 per cent; Office Consumer, which reported 5 per cent more revenue; LinkedIn, which delivered 25 per cent more revenue; and Dynamic products and cloud services, which provided a 14 per cent revenue increase, driven by Dynamics 365 revenue growth of 41 per cent.
Meanwhile, Microsoft's more personal computing segment brought in $11.1bn, up 4 per cent from the same quarter a year ago. Within that group: Windows OEM revenue rose 9 per cent; Windows Commercial products and cloud services rose 26 per cent; search advertising revenue rose 11 per cent; Xbox content and services remained flat; and Surface revenue slipped 4 per cent, although the recently released models may change that.
With segments sliced to collect cloud-related products and services into a single group called commercial cloud, revenue rose 36 per cent to reach $11.6bn. Included in this calculation are Microsoft Office 365 Commercial, Microsoft Azure, LinkedIn money-making parts, Microsoft Dynamics 365, and a few other commercial cloud properties.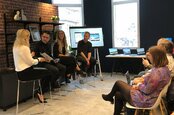 Microsoft Surface Pro X: Windows on Arm usable at long last – but, boy, are you gonna pay for it
READ MORE
On a conference call for investors, Nadella also led with talk of cloud prowess. "Every Fortune 500 company today is on a cloud migration journey and were making it faster and easier," he said, pointing to the customer appeal of cloud partnerships with the likes of SAP, VMware, and Oracle.
During the conference call Q&A, Nadella elaborated on the scope of Microsoft's cloud concerns, which are not confined to Azure data centers. Hybrid cloud contracts, he said, are not a transitory phase, but a phenomenon that can be expected to continue because computing goes where the data. And increasingly that's happening at the network's edge.
In remarks sent to The Register via email, Ryan Duguid, chief of evangelism and advanced technology at Nintex, sounded about as upbeat as you might expect from a Microsoft partner basking in the warmth of heavily-utilized Azure servers.
"Not only is the company continuing to grow market share through Azure, but there seems to be a new found energy in the competition with Salesforce as a platform of choice for business applications, spearheaded by Dynamics, LinkedIn and the Power Platform," Duguid said.
"Combined with an impressive line-up of new devices showcased in the recent Surface event, it's clear that this is going to be a big year for the tech titan." ®