Amazon, a cloud giant with a supplementary online souk, saw a rare drop in profits in its latest financial results, published Thursday.
For its 2019 third quarter [PDF], ended September 30:
Revenues of $70bn were up 24 per cent from the year-ago quarter and ahead of $68bn analyst predictions.
Net income was $2.1bn, down 27 per cent from $2.9bn this time last year.
Earnings per share were $4.23 short of the predicted $4.55, and down from the year-ago's $5.75.
AWS revenue of $9bn was up 25 per cent from $6.7bn in third quarter of 2018. AWS expenses soared from $4.6bn to $6.7bn however.
AWS also continues to boost the bottom line, accounting for $2.26bn of Amazon's $3.1bn operating income this quarter.
Operating expenses for all of Amazon grew from $52.9bn to $66.8bn as Amazon sank more cash into its shipping operation and other businesses.
Amazon told shareholders to expect more of the same in the coming quarter, as execs predicted operating income in the fourth quarter to tumble from the year-ago $3.8bn to anywhere from $1.2bn to $2.9bn. Sales are also expected to come in at $80bn to $86.5bn, below analyst expectations' of roughly $87bn.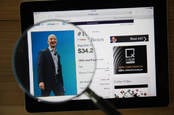 I've got way too much cash, thinks Jeff Bezos. Hmmm, pay more tax? Pay staff more? Nah, let's just go into space
READ MORE
While AWS grew well on the quarter for Amazon, so did spending in the cloud platform. CFO Brian Olsavsky told financial analysts that beefing up the sales and marketing operations for the business were big part of the spending push.
"We continue to feel good about not only the top line but also the bottom line," he said, "but we are continuing to invest."
Amazon boss Jeff Bezos, meanwhile, talked up the company's prospects for the holiday season despite the predictions of falling profits.
"Customers love the transition of Prime from two days to one day — they've already ordered billions of items with free one-day delivery this year," the Beez boasted during the conference call with analysts.
"It's a big investment, and it's the right long-term decision for customers."
In the short term, however, shareholders were less pleased with the outlook, and Amazon shares fell by more than seven percent, dipping below $1,660 apiece in after-hours trading. Maybe Mr Bezos will have less to spend on his rocket toys than he thought. ®
Similar topics