This article is more than 1 year old
Plan to strip post-Brexit Brits of .EU domains now on hold: Registry waves white flag amid political madness
But the damage is already done
Plans to prevent UK citizens from owning .eu domains are on ice following the latest Brexit madness from the British Parliament.
"Following the recent developments in the UK withdrawal scenario, the entire plan outlined on Brexit page is on hold," advised the operator of the .eu. registry, EURid, in an update this week. "We will keep you informed as soon as we receive further instructions from the European Commission."
Under the most recent set of plans, EURid had until October 24, prior to a Halloween Brexit, to inform the hundreds of thousands of .eu domain holders in the UK that they would lose control of their domains after the country ejects from the European Union.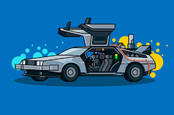 Boris Brexit bluff binds .eu domains to time-bending itinerary
READ MORE
As we pointed out with some prescience earlier this month, that deadline was never going to be possible thanks to the seemingly endless games of chicken played by UK politicians for the past two years.
But stating obvious truths is not a popular pastime these days, as indicated by Prime Minister Boris Johnson continuing to insist that the UK will exit the EU next week, despite the fact that, in all likelihood, it won't.
The hold is just the latest in a long series of updates and flip-flops over the past 18 months after Euro officials decided to tie registration policies for .eu domains to the turbulent and nonsensical parallel political process.
It doesn't have to do this at all, as we and others have pointed out ad nauseam. In fact, the long-standing policy of the domain name industry has been to leave names alone and allow time and markets to make changes. But Brussels' bureaucrats love nothing more than making, and then revising, bad rules.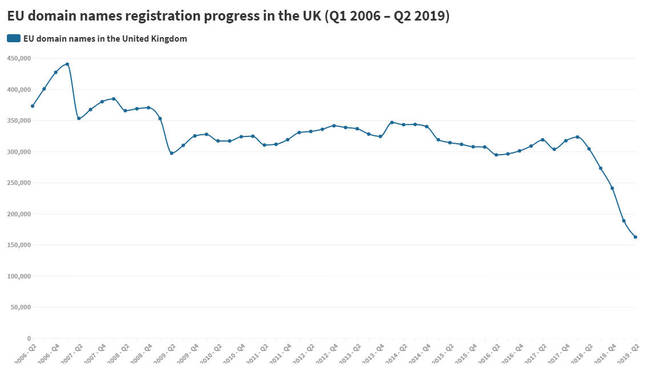 One vote that does count: with your feet.
By the time EURid does get to implement whatever final policy is imposed on it by European pen pushers, it may not matter. According to an analysis by a Dublen SEO consultant Francesco Baldini, Brit owners of .eu domains have decided that the endless uncertainty and constantly changing rules over ownership simply isn't worth the hassle.
He has been tracking usage of .eu domains and the most recent figures show that the number of .eu domains owned by UK residents have dropped by an extraordinary 46 per cent in just the past year.
In the second quarter of 2018, there were 304,133 UK-based .eu domain names; today, just 162,287. So by imposing a nonsensical policy that it has had to repeatedly change in the face of criticism, legal threats, and ever-changing Brexit timetable, the EU has managed to not only drive the .eu registry operator EURid to the point of madness but also cut its own revenue from the registry thanks to domains being dropped.
Pointless economic damage and legions of angry punters? It can only be Brexit. ®