Oh good. They're looking for an NHSX CTO. Hopefully they'll see off 'snake oil' pushers, says GP
Never mind the AI, Hancock. I just want to turn my sodding computer on, mutters another
Fancy a new job and a pay packet of upwards of £131k per year? Well, if you don't mind working with the ever-beaming Matt Hancock, the health service's newly formed digital quango, NHSX, is looking for a full-time chief technology officer.
The move has been welcomed by some health and technology experts, who have warned the UK's National Health Service is on the verge of wasting money on untested technology such as AI because it does not necessarily understand what it is buying.
NHSX was created in April 2019 to look after data, digital and tech procurement for the Department of Health and Social Care, NHS England and NHS Improvement, but has an "open door" policy with the IT industry. Health secretary Matt Hancock's tech advisor, Hadly Beeman, has been acting CTO for the org since its inception.
The digital arm of the National Health Service has the benefit of a £1bn annual sum to spend nationally and a significant additional spend locally, with the goal of equipping staff and citizens with the technology they need.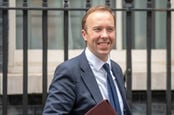 Another Hancock-up? UK health secretary appears in piece about controversial GP app
READ MORE
"This is a tremendous opportunity to play a key role in the strategic direction of our organisation," reads the blurb in the job description.
"You will work closely with NHS Digital, the Department of Health and Social Care (DHSC), NHS England and NHS improvement colleagues to agree the technical architecture for the NHS and to ensure that technology capabilities are fit for purpose to meet the needs of the health and care system.
"An in-depth understanding of the internet stack, and experience of developing or managing a large API-based architecture is essential, as well as an in-depth understanding of modern software and web development practices and experience of leading software or web/internet engineering teams and running or overseeing a development environment."
Marcus Baw, GP and software developer, said: "There is a huge amount of money being spent on healthcare technology. And because of the amount available, there is a feeling it is becoming a bit of a gold rush. Having a CTO that can spot the snake oil would be very valuable."
In August, the government announced a £250m fund to boost the use of AI in the NHS by using automated systems for diagnoses or data analysis, which a number of experts have criticised as "technology for technology's sake".
"This is a hugely complicated area," Baw said. "I welcome investment in understanding AI, but the time is not right to start deploying it across the NHS. Anyone touting as future without knowing much about it is in danger of looking silly."
Baw noted there are also issues around using private company's proprietary technology, with medical professionals at risk if they are seen to be criticising some of the large litigious AI companies. "If it makes a mistake, how do you remonstrate? And how do you even know it made a mistake in the first place?"
Any future CTO should prioritise opening up APIs across the NHS in order to deliver more integrated healthcare services, he advised. "There is no point talking about 'shiny shiny' AI and blockchain, when we can't currently do simple transactions across the NHS."
It certainly seems the NHS has a long way to go in improving its IT systems. In front of an audience of hundreds of GPs yesterday, chair of the Royal College of General Practitioners Dr Helen Stokes-Lampard told the UK health secretary she is lucky if she can make it through the morning without the PC crashing.
"Right now I'm still working on Windows 7 in my own practice – it still takes me 17 minutes to log on to my surgery [computer] on a Monday morning," she told Hancock, according to the Telegraph.
Hat-tip to reader Rob for alerting us to this story. ®