This article is more than 1 year old
Pentagon beams down $10bn JEDI contract to Microsoft: Windows giant beats off Bezos
Congratulations, America, the home of Clippy (and Azure) is now running the US military's IT
Microsoft has been awarded the $10bn decade-long US Department of Defense JEDI IT supply contract that will see the nation's military switch to the cloud.
The Redmond giant's Azure platform will play host to the US armed forces in an attempt to overhaul and streamline the Pentagon's IT infrastructure under a single umbrella – or single point of failure, to put it another way. Microsoft share price rose on the news in after-hours trading.
"The National Defense Strategy dictates that we must improve the speed and effectiveness with which we develop and deploy modernized technical capabilities to our women and men in uniform," Dept of Defense (DoD) Chief Information Officer Dana Deasy said in announcing the award.
"The DoD Digital Modernization Strategy was created to support this imperative. This award is an important step in execution of the Digital Modernization Strategy."
The decision will no doubt come as a disappointment to Amazon Web Services (AWS), the presumed front-runner for the single-vendor deal since it was first announced.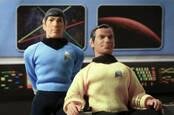 Luke, I am your father... which is why I must eject from JEDI decision, says US Defense Sec
READ MORE
Due to the massive requirements of the winner-takes-all contract, the security clearances required and the mandate that it go to a single provider, AWS and Microsoft were seen as the only two qualified candidates for the deal.
In awarding the contract to Microsoft, the Pentagon will avoid further allegations that it collaborated with AWS to stack the deck in its favor, a complaint which has dogged the process from its outset.
A group of smaller cloud providers, lead by Oracle, have long-claimed that Amazon used somewhat dodgy means to make sure the Pentagon inserted a single-vendor requirement that would lock out other bids. It's claimed AWS also hired two Pentagon staffers who had direct input into the contract process.
The fighting reached a boiling point this summer when the White House got involved and the award process was temporarily put on hold.
However, there's still lots of other government cash to splash out, the Pentagon said.
"The Department continues to assess and pursue various cloud contracting opportunities to diversify the capabilities of the DoD Enterprise Cloud Environment," the Pentagon said. "Additional contracting opportunities are anticipated."
Microsoft won't be guaranteed the full $10bn over 10 years, either. The base period for the contract is two years and just a $1m guarantee, though the Pentagon projects to spend at least $210m over that time. After the base period, the DoD can opt to renew the deal at its discretion.
Microsoft could not be reached for comment, possibly because everyone in Redmond was already off to celebrate the massive win and it's hard to check your email with a bottle of champagne in each hand. ®