This article is more than 1 year old
Google boss Pichai unbothered as 'Other Bets' nears billion-dollar cash sink in Q3 results
There's rich, and then there's 'shrug off 24% profit drop' rich
Google execs are upbeat for the future of the Chocolate Factory even as its quarterly haul took a hit in the profits department.
For the third quarter (PDF) of Alphabet's fiscal 2019:
Revenues were $40.5bn, up 20 per cent from $33.7bn in the same quarter of 2018 and ahead of analyst estimates at $40.3bn.
Net income was $7.1bn, down 24 per cent from $9.2.bn a year ago.
Non-GAAP earnings per share of $10.12 fell well short of the $12.28 analysts had predicted.
Ads from Google Properties brought in $28.6bn of revenue, up from $24.1bn.
Revenues on third-party site advertising in Google's network accounted for $6.4bn, up from $4.6bn last year.
Other revenues, a non-ads category that includes Google Cloud, ballooned its haul to $6.4bn from $4.6bn.
The 'other bets' part of Alphabet, things like Google Fiber and Waymo, grew revenues from $146m to $155m, but also saw losses expand from $727m to $941m.
The smaller-than-expected profits were blamed in part on a $1.5bn loss Google took to its investment portfolio, though execs did not say exactly what the investments were that didn't pay off. Alphabet does have a significant stake in Uber however.
And back to SiteLock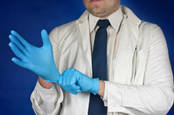 All we need is just a little patients: Google's Alphabet hires new chief health officer
READ MORE
In addition, Google noted that it has pumped money into hiring new workers, specifically product managers and engineers for the R&D operations. CEO Sundar Pichai said that he expects those investments in staff to pay off for Google down the road. Google also boosted its real-estate holdings over the quarter, acquiring new buildings in Sunnyvale, CA and Seattle, WA.
Even with the quarterly dip in profits and the growing money pit that is other bets, Pichai says he and CFO Ruth Porat are not worried, as the Chocolate Factory has always put long-term growth over short term success. And, to be fair, $77.7m in profit every day for the last 90 days isn't bad going.
"Our view is that quarterly growth underscores the strength and vibrancy in our business," Pichai told analysts, pointing to the 20 per cent revenue jump. "We are continuing to invest in long-term opportunities."
Investors did not seem too bothered, either. Despite missing earnings targets, shares were down just 1.7 per cent at $1,268 in after-hours trading. ®