This article is more than 1 year old
Samsung SpaceSelfie Galaxy-bearing balloon photobombs Michigan home the hard way
Phone biz refers to crash as 'early soft landing'
On Saturday, a phone-toting high-altitude balloon launched by Samsung to promote its Galaxy S10 5G phone crashed into the front yard of the home of Nancy and Dan Welke in Gratiot County, Michigan.
On its Facebook page, the Gratiot County Herald reported that the couple heard a crash around 0845 Saturday morning and discovered Samsung's SpaceSelfie balloon lying on the ground, tangled in power lines.
Last week on Wednesday in the UK, Samsung announced its latest SpaceSelfie project at a media event where somewhat-celeb Cara Delevingne sent a snapshot of herself to a balloon-borne Galaxy S10 5G phone, so her selfie on the airborne display screen could be rephotographed from the stratosphere and the resulting image, with Earth as the background, could be beamed back.
While this might more easily be accomplished by superimposing a selfie on a snapshot from space, Samsung undertook this promotional stunt because, as Samsung Europe chief marketing officer Benjamin Braun put it, the company's technical ethos is "do what you can't."
Samsung has lived up to its motto with other projects like its fiery Note 7 and its fragile Galaxy Fold. While the awkward touchdown of the SpaceSelfie balloon rig appears to be motto-compliant, Samsung insists the landing was intentional, if a bit awkward.
"Early Saturday morning, Samsung Europe's SpaceSelfie balloon came back down to earth," a company spokesperson said in an email to The Register.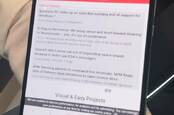 OK, let's try that again: Vulture rakes a talon on Samsung's fresh attempt at the Galaxy Fold 5G
READ MORE
"During this planned descent of the balloon to land in the US, weather conditions resulted in an early soft landing in a selected rural area. No injuries occurred and the balloon was subsequently retrieved. We regret any inconvenience this may have caused."
According to ABC News, the inconvenience took the form of a power outage that affected local residents of the area for several hours as utility personnel disentangled the balloon from the power lines.
Samsung says the balloon that came down was from Samsung Europe, which held its launch event on Wednesday, October 23. According to ABC News, however, the downed balloon was launched from Iowa on Friday by South Dakota-based Raven Industries.
Samsung, which has launched phone-bearing balloons elsewhere in places like Malaysia, did not immediately respond to clarify its balloon accounting. A call to Raven Industries was also not immediately returned.
The SpaceSelfie project was supposed to run through October 31, but the project website indicates the mission is complete. ®