This article is more than 1 year old
AMD isn't playing around: Bad console quarter a drag on chip slinger's finances
Strong Ryzen, Epyc performance hampered by slow sales for semi-custom
AMD saw strong desktop and server processor sales tempered by a dip in its trade of semi-custom games console chips.
For the third quarter of fiscal 2019, ending September 28 of this calendar year:
Revenue of $1.8bn was up 9 per cent from the year-ago quarter and in line with analyst estimates.
Net income of $120m was up from $102m in the third quarter of 2018, up 18 per cent from this time last year.
Non-GAAP earnings per share of $0.18, up five cents over the last 12 months, and met analyst estimates.
Compute and Graphics revenue clocked in at $1.28bn, up 36 per cent on the year-ago quarter as sales of the chip designer's Ryzen desktop line are going well and average sales prices rose. Microsoft is using Ryzen in its latest Surface laptop, with HP and Lenovo also using the chip architecture in desktop PCs.
Enterprise, embedded, and semi-custom (cough, cough, games console) revenues of $525m were down 25 per cent from last year. AMD blamed this on the Osborne Effect of a new generation of Sony and Microsoft consoles set to hit late next year, tanking demand for the current boxes featuring AMD's chippery.
AMD CEO and president Dr Lisa Su noted that much of the boost this month was thanks to the rollout of AMD's 7nm lines, though she declined to give specific shipping numbers.
"Our first full quarter of 7nm Ryzen, Radeon and EPYC processor sales drove our highest quarterly revenue since 2005, our highest quarterly gross margin since 2012 and a significant increase in net income year-over-year," said Su.
"I am extremely pleased with our progress as we have the strongest product portfolio in our history, significant customer momentum and a leadership product roadmap for 2020 and beyond."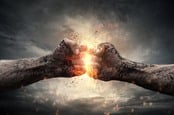 AMD sees Ryzen PCs sold with its CPUs in Europe as Intel shortages persist
READ MORE
Su also made a point of talking up the success of the second generation of Epyc server chips. While the enterprise unit was dragged down by the sagging console numbers in the semi-custom business, the AMD boss noted that the server line, by comparison, had an extremely strong quarter, with Epyc shipments and revenues up 50 per cent on the previous quarter, as it gained ground on rival Intel with a number of deals.
AMD said that it had signed agreements to deliver Epyc chips to Dell, Lenovo, and Twitter, and the hardware will be used in Cray's Shasta ARCHER2 system, which will be the UK's most powerful known supercomputer.
In discussing the quarterly numbers with analysts, Su suggested AMD has the edge in, among other things, the efficiency of AMD's server chips.
"Most of our server customers are very sophisticated, so total cost of ownership is a factor," Su noted. "It's not just about performance, but performance at a given power level."
AMD's just-right financial numbers were met with a similar reception by investors. Shares were holding steady, up 0.88 per cent at $33.32 in after-hours trading. ®
PS: If you have a Ryzen 3000 processor in your workstation, be aware there is a bug in its random-number-generating RDRAND instruction that causes it to return 0xFFFFFFFFF all the time. Not very random. A microcode patch to fix this was released in July, though this hasn't filtered down to all motherboards, causing some users to tear their hair out. You may have to wait another month or so before an update arrives, if you're not already patched up.