This article is more than 1 year old
GlobalFoundries calls off the dogs to reach semiconductor patent sharing deal with TSMC
In two months? That was quick
Just two months after GlobalFoundries started legal action against Taiwan Semiconductor Manufacturing Company (TSMC), the pair have reached a 10-year patent-sharing agreement.
To have ended any kind of corporate legal row in just two months is impressive, even more so when it involves fiendishly complex patent claims.
The pact dismisses all legal action between the duo, and they have also agreed "a broad life-of-patents cross-license to each other's worldwide existing semiconductor patents as well as those patents that will be filed during the next 10 years," a joint statement ventured.
No financial terms or other details were disclosed.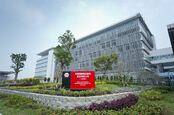 Chips 'n fish: Globalfoundries casts patent net at rival TSMC
READ MORE
Thomas Caulfield, GlobalFoundries CEO, said in a statement: "We are pleased to have quickly reached this settlement that acknowledges the strength of our respective intellectual property. Today's announcement enables both of our companies to focus on innovation and to better serve our clients around the world."
Sylvia Fang, general counsel for TSMC, made similar remarks, saying the end of legal action would allow the company to focus on customers and "enabl[e] the entire semiconductor industry to thrive and prosper".
Josticks all round, it seems, which is a big change from the legal face-off that started in just August.
Santa Clara-based GlobalFoundries accused TSMC of infringing 16 of its patents at the end of that month. It also named about a dozen other companies who use TSMC processes or services, including fabless chip designers Apple, Broadcom, Nvidia and Qualcomm, as well as kit makers Cisco, Google, Lenovo and Motorola, which use TSMC factories. The case raised fears of import bans and injunctions while it was settled.
When the legal action was launched, the company denied it was working in concert with the US government or other partners but did concede to The Register that the ongoing trade row between the US and China did add context to its arguments.
Saam Azar, GlobalFoundries' senior veep of corporate development, legal and government affairs, said at the time that the case was an effort to protect remaining US and European chip production.
"A lot of people don't know that 90 per cent of leading edge semiconductor manufacturing and 50 per cent of outsourced manufacturing comes out of Taiwan."
But of the legal dispute and China-US trade rows Azar said: "I do think [the trade dispute] helps underscore the uncertainty of times and the importance of the supply chain. That is the background. It helps underscore the need for an alternative foundry supplier perhaps more than ever. But all we're doing here is protecting our intellectual property."
TSMC is the world's largest chip foundry, a position strengthened when GlobalFoundries exited the 7nm market late last year. ®