This article is more than 1 year old
FYI, we're now in the timeline where Facebook decides who is and isn't a politician on its 2bn-plus-person network
It's almost as if social media giant has ill-considered, naive, spectacularly stupid policies
Comment Facebook's controversial policy to exempt political ads from factual review has taken another dive after the social media giant appeared to state it gets to decide which politicians the policy applies to.
One California marketer is so incensed at the antisocial network's politicians-can-lie-with-impunity policy that he started running false ads through a Political Action Campaign (PAC) to highlight what he sees as the obvious stupidity of the approach.
When Facebook banned those ads following complaints, the man in question – Adriel Hampton – registered as a candidate for the governor of the US state, posting his registration on Twitter this week and stating that he now intended to run false ads on Facebook in his personal capacity as a political candidate.
Up until this point, Facebook has stuck rigidly to its policy, refusing a request from presidential candidate Joe Biden to take down false and misleading ads posted by others about his interests in Ukraine. It also left up a series of ads posted by other presidential frontrunner, Elizabeth Warren, in which she purposefully made false statements about Facebook CEO Mark Zuckerberg as a way of highlighting the logical inconsistency of the company's approach.
But in the case of Hampton, Facebook has seemingly decided that its blanket policy may be less of a blanket and more a loosely woven throw.
"This person has made clear he registered as a candidate to get around our policies, so his content, including ads, will continue to be eligible for third-party fact-checking," a Facebook spokesperson said in response to Hampton's baiting.
Let's see if it holds
If Facebook now claims that it gets to decide who is a politician and who is not, even if that person is registered as a candidate through the proper channels, then it is not only inserting itself directly into the issue but claiming greater authority over the democratic process than the political institutions that define it.
It's almost as if having a policy allowing a specific group of people to say whatever they want without any form of checking or retribution on a publishing platform that reaches billions of people is an ill-considered, naive, intellectually dishonest and pathetically weak position.
Certainly several hundred Facebook employees think so, having signed and sent a letter to their boss – Zuckerberg – on Monday complaining about the approach. "Misinformation affects us all," the letter said. "Our current policies on fact checking people in political office, or those running for office, are a threat to what FB stands for. We strongly object to this policy as it stands."
Facebook has been desperately trying to regain control of its messaging, persuading several of its executives – some of whom have gone to some lengths to highlight their journalistic experience – to write posts arguing in favor of the policy. But those efforts have been met with disdain and mockery, particularly an attempt to justify the inclusion of right-wing bait-box Breitbart as a "trusted source" of news.
Different rules
A different journalistic dig into the unusual popularity on Facebook of another aggressively slanted right-wing website, The Daily Wire, revealed that the site was running roughshod over many of Facebook's own policies in order to promote itself. The website has set up a network of 14 different Facebook pages that purport to be independent of The Daily Wire but which seemingly coordinate closely with one another to promote the title's stories.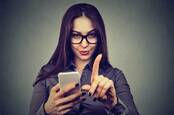 From Instagram to insta-banned: Facebook wipes NSO Group workers' personal profiles amid WhatsApp hack rap
READ MORE
Facebook again took the side of the website, claiming to have run an investigation and found that "these are real pages run by real people in the US and do not violate our policies." That response was met immediately with evidence that the "independent" pages had all posted the same article from The Daily Wire within four seconds of one another.
In the past 24 hours, Facebook has taken a different tack: suing several companies for bad behavior in a transparent effort to make itself appear as a responsible corporate force for good.
On Tuesday, Facebook sued Israeli cybersecurity company NSO Group for allegedly using malware to hack into the phones of diplomats and government officials, lawyers, political dissidents, and human rights activists scattered across the world via a WhatsApp vulnerability. And on the same day, it also sued domain name registrar OnlineNIC in an effort to take down 20 websites that Facebook alleges sell hacking and phishing tools.
For outside observers, it remains baffling that Facebook as a multi-billion-dollar media goliath with a huge readership – 2.5 billion active monthly users – and responsibility appears incapable of making the kind of solid, justifiable decisions that other large organizations make all the time.
That persistent failure to make intelligent, adult decisions is thought to be a direct result of the overweening influence of CEO Mark Zuckerberg. Whoever gets into Mark's ear and persuades him of the "right" approach gets to set company policy, no matter how obviously flawed that may be. ®
Updated to add
Twitter has made it all look super easy today by just banning political ads from its platform, starting November 22:
We've made the decision to stop all political advertising on Twitter globally. We believe political message reach should be earned, not bought. Why? A few reasons…🧵

— jack 🌍🌏🌎 (@jack) October 30, 2019
Meanwhile, Facebook's Q3 2019 financial figures [PDF], out today, show revenue up 29 per cent year-on-year to $17.65bn, and a profit of $6.09bn, up 19 per cent.