This article is more than 1 year old
From Instagram to insta-banned: Facebook wipes NSO Group workers' personal profiles amid WhatsApp hack rap
Go Zuck yourself, fam
Updated Facebook, Instagram, and WhatsApp are today busy deleting the personal profiles of employees at NSO Group amid an ongoing legal battle.
This move to wipe said staff off the face of Mark Zuckerberg's sprawling cyber-empire comes the day after his antisocial network sued NSO for allegedly illegally hacking the smartphones netizens via a WhatsApp vulnerability. It is believed the Israeli surveillance-ware maker was hired by a mystery customer or customers to infect the handhelds of 1,400 people, including diplomats, government officials, human-rights activists, lawyers, and journalists scattered across the world.
On Wednesday, past and present employees of the spyware biz found their personal profiles on all three Facebook-owned platforms were being removed. One forum post suggested hundreds of folks have been hit – some incorrectly.
"Yesterday, both my personal Facebook and Instagram Profiles were intentionally disabled by the world's greatest privacy violator in the history of mankind, AKA Facebook," wrote NSO's global intelligence services and training manager Guy Brenner in a LinkedIn post.
"Why? Because I work for a company called NSO Group, and according to their statements, have found and used vulnerabilities in their WhatsApp architecture, to provide security agencies and governments sophisticated tools to prevent the next 9/11.
"I just wonder how well that #Libra project will work once you encounter a transaction you won't be a fan of. Well let me take a guess, you'll take control over our money.
"One last thing, you've done a pretty terrible job blocking so many false-positives (employees' spouses, friends, etc.), give me a call so I can help you with your link-analysis work. You've got my number."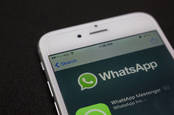 WhatsApp slaps app hacker chaps on the rack for booby-trapped chat: NSO Group accused of illegal hacking by Facebook
READ MORE
Brenner is referring to the allegations in WhatsApp's lawsuit that NSO broke into more than 1,000 people's phones to spy on them on behalf of shadowy customers. Facebook and WhatsApp accused NSO of breaking both California and US computer abuse laws.
NSO Group has countered that it does not allow its software to be used for any illegal surveillance, and only sells its tools to legit governments and agencies that investigate terrorism and crime.
Neither side wished to comment on the record. An industry source familiar with the whole brouhaha, however, directed The Register to a passage in WhatsApp's court paperwork that sought to permanently bar NSO Group, as well as its agents and employees, from ever again "accessing or attempting to access WhatsApp's and Facebook's service, platform, and computer systems."
This, it seems, is the justification being used by Zuck and Co. to take down the profiles of NSO Group workers. While the antisocial is seeking a legal injunction, it can, in the meantime, use its own terms and conditions to remove the individual profiles. ®
Updated to add
Apparently, a "significant" portion of the hacking victims are high-profile government and military officials in 20 or more countries on five continents, it was reported Thursday.