This article is more than 1 year old
The Feds are building an America-wide face surveillance system – and we're going to court to prove it, says ACLU
Civil-rights warriors sue FBI, DEA, DoJ over fears of secretive mass-spying network
The American Civil Liberties Union (ACLU) is suing the FBI, the Drug Enforcement Agency (DEA), and the Department of Justice (DoJ) in an effort to find out what the US federal government's systems and policies are around facial recognition.
Following a freedom-of-information request in January that Uncle Sam still has not responded to, the ACLU has demanded [PDF] the release of the TLA trio's guidelines and rules regarding what the union terms "face surveillance technology," as well as details of any contracts or pilot programs it has with private companies over the technology.
Specifically, the civil-rights warriors have filed suit in Massachusetts against the Feds, requesting the district court forces the agencies and department to cough up "public records pursuant to the Freedom of Information Act."
"Technology has outpaced our civil rights law," said the director of the Technology for Liberty Program at the ACLU of Massachusetts, Kade Crockford, in a statement.
"Face surveillance technology poses unique risks to people's privacy, safety, and civil liberties. As state lawmakers consider a statewide moratorium on the government's use of this technology, and Congress considers its own legislation, the public urgently needs to know how the federal government is using face surveillance and other remote biometric monitoring systems in Massachusetts and across the nation."
Fears of both bias in, and misuse of, facial recognition technology have been growing in recent years, especially as the technology matures and has become both more accurate and cheaper. San Francisco banned the use of such technologies by any city department, including the police, earlier this year unless there is a broader review. Other cities have done likewise while several states are considering similar legislation.
There are fears however that the federal government already has extensive facial recognition systems in place and are running them in secret in much the same way that electronic mass surveillance programs were put in place with little or no legal oversight or public discussion after the September 11 attacks.
Not gonna tell yer
Those fears have been compounded by the fact that the FBI, DoJ and DEA have refused to provide information on what programs, pilots of policies they have in place over facial recognition technology.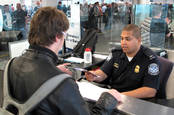 Guess who's dreaming of facial-recog body cams now? US border cops: AI tech sought to scrutinize travelers
READ MORE
What details have emerged have only raised concerns. The FBI has a system where law enforcement officials can submit a compare a photo and have it compared to a database of over 30 million mugshots – taken from criminal cases.
But it also emerged in June that the FBI has a larger database of over 640 million faces, compiled from states' driver licenses, that it also allows its agents to search against. That database is seemingly run by an internal FBI unit called Facial Analysis, Comparison and Evaluation (FACE), though a GAO report [PDF] appeared to indicate that the database is routinely accessed by cops as well as the Feds, with the database being questioned more than 390,000 times since 2011.
The policies covering use of that database is still unknown, as are the systems that federal government uses to carry out facial recognition. What is known is that several companies have contracts with the government for facial recognition, including Amazon. Again, the details of those contracts are unknown.
The ACLU hopes to pull out some of those details with its lawsuit, arguing that it is seeking to "understand and inform the public about, among other things, how face recognition and other biometric identification technologies are currently being used by the government, and what, if any, safeguards are currently in place to prevent their abuse and protect core constitutional rights." ®