Ask, Allow or Block is like Vivaldi browser's version of Snog Marry Avoid for popups in 2.9
New global site permissions but rivals still ahead on privacy
Version 2.9 of Chromium-based web browser Vivaldi boasts a new central control of website permissions.
Employee-owned Vivaldi is based in Oslo, Norway, and claims 1.2 million users. Google Chrome usage is in the billions and Firefox reports over 800 million users on the desktop alone. The privacy-focused Brave claims 8 million active users. So Vivaldi is very, very small.
Small can still be worthwhile, however, and by using the open-source Chromium browser engine, which powers Google Chrome among many others, means that web standards support is good and you can install most Chrome extensions.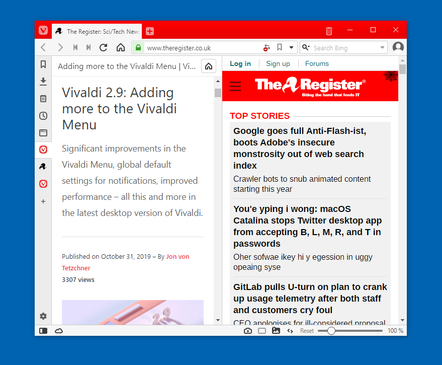 Vivaldi showing the web panel feature
Vivaldi's focus is on its customisable user interface, including a "web panel" which lets you display sites in a resizeable side panel. It also supports search engine prefixes so you can start your search with g for Google, d for DuckDuckGo, b for Bing and so on.
There are two main new features in version 2.9. The first is global default permissions for websites. These cover 10 permissions, including sound, location, notifications, camera, popups and image animations. These can be set to Ask, Allow or Block. Vivaldi CEO Jon von Tetzchner says this is to "give you a way to snuff out these annoying interruptions".
Unfortunately there is no setting to block video autoplay completely despite user requests.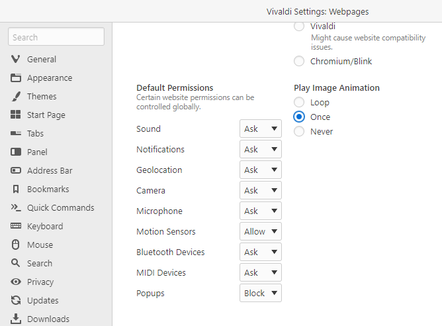 Global website permissions in Vivaldi
The second area covers menus. The web panel feature is now accessible through the top menu, you can show or hide the tab bar, and bookmarks have additional right-click options.
Vivaldi also claims fixes for HTML5 video issues on macOS, and improved performance in areas like opening and closing tabs.
In search of privacy? Vivaldi has the usual cookie controls but is behind Brave or Firefox in this respect. Many requirements can be met via extensions, as is also true of Chrome itself.
Full details of the new features are here. ®