This article is more than 1 year old
40 million emoji-addicted keyboard app users left with $18m bill – after malware sneaks into Play Store yet again
Bogus charges being racked up by Android tool
Malicious code slipped into a popular Android keyboard app racked up millions of dollars in fraudulent charges for unlucky punters.
The Secure-D research team with mobile security specialist Upstream Systems reports this week that as much as $18m in bogus fees were run up by ai.type, an on-screen keyboard replacement that has an estimated 40 million downloads through the official Android Play Store – where it has since been removed – and other third-party stores.
Secure-D claims the app, which pitches itself as a customizable emoji keyboard, contains hidden code that covertly makes premium content purchases without any user notification or permission. In addition to the bill cramming, the app engages in ad and click fraud, we're told, in some cases disguising its traffic as coming from other legitimate Android applications.
"The app has been delivering millions of invisible ads and fake clicks, while delivering genuine user data about real views, clicks and purchases to ad networks," Secure-D says of the rogue app. "Ai.type carries out some of its activity hiding under other identities, including disguising itself to spoof popular apps such as Soundcloud."
The Register has reached out to ai.type's developers for comment, and has yet to hear back.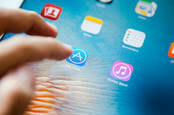 iBye, bad guy: Apple yanks 18 iOS store apps that sheltered advert-mashing malware
READ MORE
Interestingly, Secure-D says that most of the fraudulent charges occurred in July after the app was removed from the Play Store in June – though at the time it remained in third-party souks and installed on millions of devices – suggesting the people behind the malware decided to cash in while they still could.
According to the researchers, the components responsible for the bogus charges are not part of the keyboard itself, but rather are in software development frameworks bundled into the app. Those kits activate and click on ads to sign users up for the premium services and generate fake traffic with the aim of collecting commissions.
"These SDKs [software development kits] navigate to the ads via a series of redirections and automatically perform clicks to trigger the subscriptions. This is committed in the background so that normal users will not realize it is taking place," explained Secure-D head Dimitris Maniatis.
"In addition, the SDKs obfuscate the relevant links and download additional code from external sources to complicate detection even from sophisticated analysis techniques."
Anyone who is using the ai.type keyboard would be well advised to delete it ASAP. As it is no longer in the Play Store there is no risk of new infections there, but anyone using third-party services should avoid downloading the keyboard if they see it. ®