This article is more than 1 year old
UK taxman goes chief digi officer shopping at the bank: Appoints ex-Barclays CIO
From the broken world of banking to the broken world of govt IT
Mark Denney has left the creaking world of banking IT to join the, er, creaking world of government IT – taking the role of interim chief digital and information officer at Her Majesty's Revenue and Customs.
He replaces HMRC's chief digital information officer, Jacky Wright, who returns to Microsoft after two years in the role. During that time Wright had to recuse herself of making decisions about Microsoft, due to her corporate ties to the company.
Denney worked at Barclays for more than a decade, as CIO and head of change at Barclays Corporate Bank and Payments, before leaving last year to take up contracting roles. He previously held senior positions at JP Morgan Chase and GE Capital.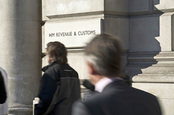 New HMRC IT boss to 'recuse' herself over Microsoft decisions
READ MORE
HMRC is currently going through a period of huge change as the department faces major challenges with two of its flagship IT projects: The £226.33m Customs Declaration Service, responsible for delivering exports and imports processing post Brexit; and its £334.48m Making Tax project.
Last month HMRC extended its contract with Capgemini to supply IT services for a further two years, meaning it will have worked with the supplier for 18 years. The extension was on top of the contract signed in 2016 to help transition the department's IT to a new model of smaller IT providers.
Along with Fujitsu and Accenture, Capgemini was part of the department's former Aspire IT contract, worth £10bn - the largest IT contract in Europe.
Jim Harra, HMRC's chief executive and first permanent secretary, said Denney's experience in technological change and payments infrastructure "is particularly relevant for us as we expand our online services to business and personal customers and implement the digital strategy we've developed over the past two years."
Earlier this week the Treasury Committee told UK bank regulators they must do more to force banks to improve their woeful record on IT.
So at least it seems Denney will be partially prepared for his new role at HMRC... ®