This article is more than 1 year old
£1bn Brit court digitisation scheme would be great ... if Wi-Fi situation wasn't 'wholly inadequate'
Unfortunately, these things need internet to work
The tech behind the £1bn justice system modernisation programme, intended to digitise the process against a backdrop of court closures, has been slammed by British MPs.
The House of Commons Justice report [PDF] said: "Courts service modernisation, including use of better IT to be more efficient, is long overdue.
"But we have found that poor digital skills, limited access to technology and low levels of literacy and legal knowledge raise barriers against access to new services provided by digital means."
It concluded that Her Majesty's Courts and Tribunals Service (HMCTS) "has struggled to explain its vision for the reform programme, and needs to be more rigorous in engaging with and responding to stakeholders. The Ministry of Justice should also do more to evaluate the reforms, especially their impact on vulnerable and excluded groups."
In March 2019, the government pushed back the programme's completion date by a further year to 2023, meaning it will take seven years to complete.
Part of programme intends to reduce demand on courts by revamping processes and systems, with greater use of online services and video hearings.
However, the report was highly critical of those efforts so far. "The interests of justice are not served by unreliable video equipment and Wi-Fi facilities throughout the criminal courts estate; HMCTS must expedite planned investment upgrading these.
"There is not enough research on the impact on justice outcomes of video hearings and video links in the UK; the MoJ should commission this. Existing access to online justice processes only via the gov.uk website should be discontinued and replaced without delay."
The report also singled out the £280m Common Platform Programme, the digital case-handling system intended to join up the case management process across HMCTS, the Crown Prosecution Service and the police. The Register was the first to report on the scheme's troubles back in 2017.
"We received evidence expressing doubts about the scope and operation of the Common Platform, currently used in the Crown Court, referring to difficulties faced by unrepresented litigants in getting hard copies of electronic documents," said the report.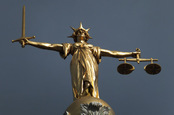 Hundreds of millions 'wasted' on UK court digitisation scheme
READ MORE
"It was pointed out that juries could not access electronic case files and had to be provided with printed copies or use police laptops to view documents electronically. HMCTS's plans to extend the Common Platform to magistrates' courts will inevitably be affected by the quality of Wi-Fi available in courtrooms."
The Legal Committee of HM Council of District Judges (Magistrates' Courts) described the current Wi-Fi as "wholly inadequate".
"This prevents papers being sent/received, often the [Crown Prosecution Service] will have to stop in the middle of a case because they can no longer access their files... and District Judges often cannot access their papers as the Wi-Fi has stopped working or is exceptionally slow. There is no evidence that HMCTS is addressing this issue," it said.
Committee chair Bob Neill MP said: "The Ministry must halt planned deep staff cuts in court buildings until it is confident it can provide a proper alternative service, and end further court closures until the past effect of closing courts on the people who use them has been properly assessed."
A Ministry of Justice spokesman said: "More than 250,000 people have used our online services in the past year, with more than 80 per cent satisfied with their experience. Those that struggle digitally can also choose to use paper versions, or speak to someone on the phone or face to face if they prefer.
"We don't believe this report presents a balanced assessment of reform but will carefully address the committee's findings and respond fully in due course." ®