IBM stands for I Block Money, says sales rep: Big Blue sued yet again by its own staff over 'missing' commissions
How IT titan's 'Incentive Plan Letter' anti-contract is starting to unravel
Analysis A 17-year veteran of IBM is suing the American giant claiming it failed to pay him promised sales commissions – a charge made by other Big Blue salespeople in at least two dozen similar lawsuits over the past fifteen years.
Mark Comin, of San Rafael, California, who worked for IBM from 2001 through 2018, filed his complaint in a US District Court in San Francisco on Monday alleging Big Blue violated the Golden State's unfair competition law for knowingly refusing to provide a valid, written contract and refusing to pay earned commissions.
The lawsuit [PDF] states that IBM employs hundreds, if not thousands, of sales reps and managers in California who earn sales commissions yet does not provide employees with a formal binding contract guaranteeing what they will be paid.
Instead, it provides sales reps with an Incentive Plan Letter (IPL) that includes a disclaimer stating that the letter is not a contract to pay commissions. IBM thus does not have a contract with its salespeople and, excluding agreed upon salary, can pay them... whatever.
Screwed
According to his complaint, Comin helped close a $6.4m deal with engineering firm AECOM and was owed a portion of $925,000 for his efforts. IBM paid him nothing. There was also a $3.375m deal to license third-party product Carbon Black Response, via IBM, to Intel. Comin received 10 per cent of the expected commission. He also helped sell a product called IBM Security Guardium to Apple for $1.15m. The deal closed in 2017 and Comin should have received a commission, but didn't get anything. Fed up, he left the company in February 2018.
Because Big Blue has failed to pay salespeople commissions based on quotas in the IPL, a number of IBM workers have sued the company. But most have not been successful.
"Each time, IBM's defense has been the same: IBM owes nothing because the employees do not have an enforceable contract for the payment of commissions," Comin's complaint states. "IBM claims that the IPL is not an enforceable contract, nor is there any other enforceable contract."
IBM owes nothing because the employees do not have an enforceable contract for the payment of commissions
California is an "at-will" employment state, meaning bosses can fire workers without showing cause. IBM is effectively advancing the idea of "at-will" payments for sales commissions, because in the absence of a valid contract, it contends it can cap payments as it sees fit.
Matthew E. Lee, a partner at Whitfield Bryson & Mason LLP and one of the attorneys representing Comin, told The Register IBM has pushed this line of argument in court successfully for years.
An IPL may seem to people to be a contract, he said, but it contains language that says it's not a contract. And so previous breach of contract claims have been thrown out by the courts because IBM salespeople don't actually have a contract that could be breached.
"That happened enough times that legislators and states started passing laws," Lee explained.
A change to the California Labor Code in 2013 required employers in the state to provide commission-earning employees with a valid contract.
"That's obviously a problem for IBM," said Lee.
"This is a have-your-cake-and-eat-it-too situation," he said, noting that companies like IBM benefit from the unusual motivation arising from the promise of uncapped commissions, "particularly in software sales because these are huge deals."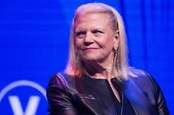 You've got (Ginni's) mail! Judge orders IBM to cough up CEO, execs' internal memos in age-discrim legal battle
READ MORE
Commission litigation has come up for Oracle sales people, too.
And HP/HPE in January settled a commission underpayment lawsuit for $25m.
Lee said there's a disconnect at IBM between internal marketing efforts designed to incentivize sales and the IT titan's subsequent litigation strategy when they decide the commission is too much and they don't want to pay.
Lee said his firm has handled eight or nine of these cases, and things have finally started to go against IBM. A few weeks ago, he said, his team got its first denial of summary judgment – meaning IBM's efforts to get the complaint thrown out failed.
That occurred in a lawsuit filed last year on behalf of David Swafford, who says IBM failed to pay about $250,000 in owed commissions for sales to Oracle and Sabre. The judge in that case, Lucy Koh, found Swafford's claim that IBM committed fraud to be credible enough that the case should be allowed to proceed.
Koh's partial denial of IBM's motion to dismiss notes that there's evidence to support Swafford's contention that IBM wants salespeople to believe their commissions are uncapped because otherwise the corporation would be unable to recruit good sales representatives and would lose deals.
Lee said he's been taking depositions for another IBM case in San Francisco in which he interviewed the head of IBM's commissions program. After asking her about the capping of commissions, he said, "I asked her whether employees could trust IBM. She told me, 'I don't know.' That's incredible to me."
IBM did not respond to a request for comment. ®