This article is more than 1 year old
Hey, corporate types. Microsoft would really love to pick your brains about Project Cortex
It's like an automatic knowledgebase creator for enterprise intranet
Ignite Having unleashed Teams on the world, Microsoft has been pondering what else it can do with all the data lurking in Microsoft 365. The answer, it seems, is Project Cortex.
Cortex sits a little awkwardly with the other search technologies unveiled at this year's Microsoft Ignite conference in Florida, USA: updates to Bing to unify a corporate intranet with the internet, like a Fiesta crudely welded to a supertanker, and a Cortana now fully focused on Microsoft's productivity suite.
Since all three are geared towards making use of the data stashed away in Microsoft 365, an observer would be forgiven for thinking that, once again, the Windows giant has come up with multiple ways of doing similar stuff.
Jared Spataro, corporate vice president for Microsoft 365, told The Register that behind all three was the Microsoft Graph, which would cheerfully slurp data held in Microsoft 365 for the trio to use.
"You could think of them as different doors to the same house," he told us.
Data gets into Graph through a variety of means. Spataro highlighted the scanning of structured documents (for example, an invoice, where regions are unlikely to change), and the processing of less consistent layouts, where machine learning would be employed along with the review and approval of an administrator to allow the engine to recognise other types of data.
If you had Cognitive Services on your buzzword bingo card, it's time to break out the marker pen.
Once in, that data can be used to highlight content in the likes of Outlook emails, replete with an associated Wiki. It could also crop up in Bing searches, where a Microsoft 365 user might see items from the corporate intranet highlighted alongside internet results.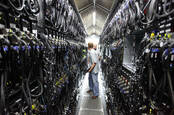 Azure Arc: Redmond's tool to wrangle services wherever they are – on-premises, cloud, your basement, in the pub...
READ MORE
It's an undeniably impressive demonstration, but Project Cortex remains very much in private preview for a select few. Spataro told us that spring 2020 is the earliest date for a more public preview, "and even when we go to GA, it's not as if we'll try to boil the ocean all at once."
Because, as Spataro acknowledged, the company was still "working really hard with customers to understand certain scenarios..."
For Project Cortex to succeed in an organisation, careful thought needs to be given to what the Graph engine should actually be pointed at and, while the current preview will note Active Directory Access Control Lists to prevent a user being shown something to which they should not have access, there is naturally a dependency on Microsoft's public cloud.
There is also the question of third-party support since Microsoft 365 is not the only fruit as far as the majority of enterprises are concerned. Standard Operating Procedures might be stored in an entirely different system, and those coveted training materials might lurk elsewhere.
During his keynote, Redmond CEO Satya Nadella flung up a slide showing a wide variety of vendors producing connectors for the technology, although Spataro cautioned that as well as exposing data for mapping, each connector must also understand Microsoft 365's take on identity and access control lists.
There is also the question of what to do about those corporates less than keen to shunt all their data into the Microsoft 365 cloud. "The Microsoft Graph itself", Spataro told us, "only runs on the public cloud," although eventually using the likes of Azure Stack for those preferring something a little more on-premises does not appear out of the question.
"We wouldn't pretend to say that we have it all figured out," Spataro added.
Also not figured out is what this is all going cost. Would this be a freebie to entice customers into the cloudy world of Microsoft 365, or would subscribers be hit with a charge to use the service? "We don't have anything that we could share." ®