This article is more than 1 year old
Blood, snot and fear: Why the travelling lone tech reporter should always knock twice
Hyatt, we've had a problem
The Register is at Microsoft's Ignite shindig in Orlando, Florida and while the event itself has been liberally hosed with the cloud and decked with impressive workflows, we reckon the Windows giant might want to offer up some of the assembled engineers to work out just what the heck is going on with Hyatt hotel's booking system.
Admittedly, the trip from London to Ignite had not gone well. Having been first sprayed with a fine mist of snot and blood from a neighbouring economy passenger suffering the combined effects of a cold and some high-altitude nose picking, this hack was treated to rainfall in the cabin of BA's finest. "It's because we're descending into warmer air, of course," proffered the cabin crew.
Perhaps turning up bloodied and a little damp was the reason this Vulture was then singled out for extra special treatment by the always-happy-to-see-you US border control. More likely, US Homeland Security keeps a list of puns against humanity, and we at El Reg are right at the top.
I was therefore relieved to get to my room. Except it wasn't my room.
The cheery Hyatt staffer had efficiently performed the check-in process, given me a room card and number and sent me on my way. However, upon stepping in I spotted towels scattered around the bathroom. Ew.
Then a hair straightener. Then a selection of dresses and make-up products.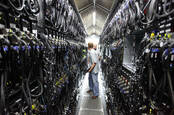 Azure Arc: Redmond's tool to wrangle services wherever they are – on-premises, cloud, your basement, in the pub...
READ MORE
Fortunately, even though it was past 9pm local time in Florida, the room's resident was not present. Otherwise I fear the experience would have been even more alarming for all concerned.
Imagine yourself performing your bedtime routine when a jet-lagged, middle-aged hack bursts in, spattered with blood and still moist from plane juice. It doesn't bear thinking about.
I later learned that I wasn't the only person Hyatt gave an occupied room to.
A horrified member of staff, blaming "the computer", quickly swapped the room and accompanied me to the new abode to check the coast was clear this time around.
Naturally, The Register contacted Hyatt to find out how this happened and what reassurance it could give lone travellers that their rest would not be suddenly interrupted. The hotel chain has yet to respond.
In the meantime, lock your door. Don't forget to flip the security catch. You never know when a shambling wreck of a journalist might come charging in. ®