OPPO's Reno 2, aka 'Baby Shark', joins the deepening pool of high-spec midranger mobes
Don't spend a thousand quid before you fish around, folks
---
What even is a flagship phone anymore? It was only a few years ago that the line of demarcation between a scrappy midranger and a high-spec handset was well defined.
If you spent an extra £300 on a phone, you could reasonably expect to get an extra £300 worth of value. Now, thanks largely to efforts from a predominantly Chinese cohort of brands – like Xiaomi, OPPO and Huawei – it's not quite as clear.
The OPPO Reno 2 typifies this conundrum. Released late last month, this handset costs £449, putting it firmly within the middle of the pack insofar as pricing goes. However, in terms of real-world performance, it stands proudly tall. It feels more expensive than it actually is, and that's largely thanks to an impressive industrial design, plus a camera that produces exquisite photos regardless of the lighting conditions.
I've been using the OPPO Reno 2 as one of my primary phones for the past month or so. OPPO, which is a sub-brand of the massive Chinese tech conglomerate BKK Electronics, sent me a review unit a few weeks prior to its European release. And while it's an excellent phone, I can't help but think it's a harbinger of things to come for the smartphone industry, with the price tag of a handset becoming increasingly irrelevant to the end-user experience.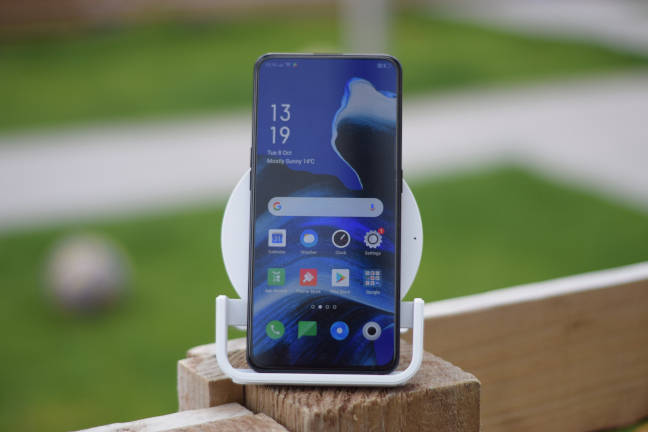 Click to enlarge
An OPPO in the hand (is worth two in the bush)
In my nearly eight-year experience of reviewing phones, one thing I've observed is that when a manufacturer releases a budget handset, the physical feel is one of the first casualties of the cost-cutting measures. Before you take a photo or play a video game, the first telltale sign of any "cheapness" is found in the phone's construction.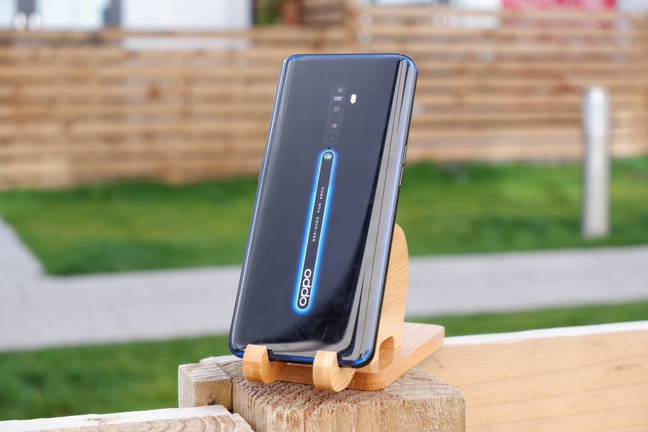 Click to enlarge
That, fortunately, isn't the case here. The OPPO Reno 2 feels delightfully well put-together, and it's clear the manufacturer has spent a lot of time in ensuring this device has a sophisticated and premium feel. Corning's Gorilla Glass encases the rear of the phone, protecting the Reno 2's constellation of cameras, which sit within the body of the phone, and do not protrude outward. The sole splash of colour is a wisp of blue surrounding the "racing stripe" that contains the OPPO logo.
At the front of the phone is an unbroken rectangle of screen. As someone who is on record as loathing the dreaded selfie notch, I'm delighted this is the case. There's something aesthetically pleasing about straightforward quadrilaterals, and the form-factor lends itself favourably to things like watching movies and playing games.
In case you were wondering, the front-facing camera hidden within the device. It pops up on a mechanical mechanism that's shaped like a pizza slice (or shark fin – there's no established nomenclature for this). We'll talk about this a bit more in depth later on in this piece.
The OPPO Reno 2 comes with a 6.5-inch AMOLED display, with a 87.5 per cent screen-to-body ratio. This would be higher, if not for the fact that the phone has some surprisingly chunky bezels. The handset comes with a 20:9 aspect ratio and a pixel density of 401ppi, for a total resolution of 1,080 x 2,400. Annoyingly, this is the one area where I take the most issue. Although colour reproduction is solid, the screen is fairly dim, resulting in inevitable (and annoying) glare while using it on particularly bright days.
You know what you are (you're gonna be a star)
Another telltale sign that the OPPO Reno 2 is a mid-range device is the chipset. It uses Qualcomm's new Snapdragon 730G chipset. As you'd expect, this sits in the no man's land between the turbocharged Snapdragon 855 and the scrappy entry-level Qualcomm 665. That notwithstanding, it has proven itself capable for most tasks I threw at it – which peaked with some light gaming.
The unit provided to this journo came with 8GB of LDDPR4 RAM, plus 256GB of storage. Overall, apps loaded swiftly, with little perceivable lag. I should also note that the Reno 2 uses Android 9.0 (skinned with OPPO's Color OS), and punters should expect a perceptible performance uptick when the developer finally gets around to upgrading it to Android 10.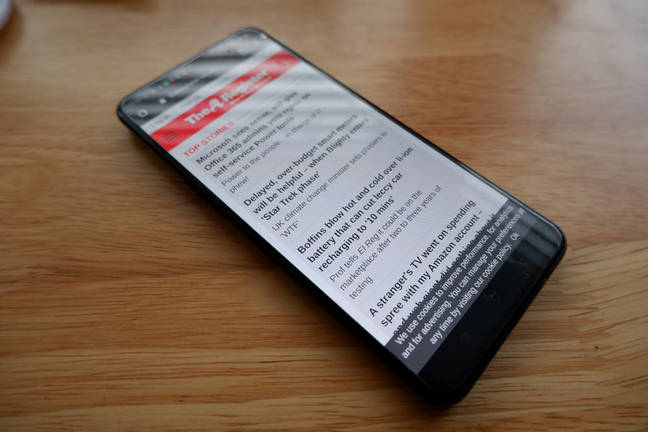 On the face of it... (click to enlarge)
Color OS is one of the less offensive Android skins I've used. Although it's a fairly intrusive reworking of the stock Android experience, it's not bad by any stretch of the imagination, with swift animations and a design that's delightfully intuitive. My biggest complaint with the device is the staggering amount of bloatware that comes shipped with it. It's so excessive, I half expected to find Norton Antivirus 2009 somewhere on the phone's flash storage.
This is not an exhaustive list of the OPPO Reno 2's bloatware: Lazada, a shopping app you can only use if you're situated in one of a handful East Asian countries; WeSing, a karaoke app; ORoaming, which lets you pay OPPO to use the internet while abroad; SoLoop, a video editing app; and App Market, the developer's own application marketplace.
If first impressions are everything, anyone who buys this phone will have theirs colored by what is so evidently a cynical cash grab. These apps add nothing, and most sane-minded users will delete these the first chance they get.
I was deeply impressed with the endurance on the Reno 2, with the handset comfortably lasting 36 hours between charges. It comes with a 4,000mAh battery, which, although not exactly industry leading, is still decently large. That said, I was bummed about the absence of wireless charging, which is increasingly a must-have for any aspirational device worth its salt.
Snapping Happy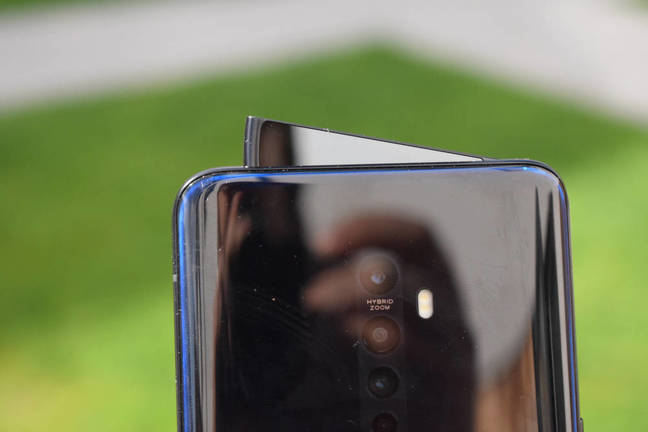 Baby shark – the shark fin camera (click to enlarge)
The OPPO Reno 2 comes with two excellent cameras. First, the front-facing camera, which wins points on its "pizza slice/shark fin" mechanism alone. That said, users will note that it takes a noticeable while for the selfie camera to reveal itself, which isn't great for selfies where spontaneity is of the essence. I'm also curious how it'll stand the test of time, given that moving mechanisms are inevitably more fault-prone than their solid-state equivalents.
As is so common on the latest midrange handsets, the OPPO Reno 2 packs a stalwart 48MP Sony IMX568 sensor for its primary camera. This is augmented by a 13MP 2x zoom, an 8MP ultra-wide, and a 2MP depth camera for those all-important bokeh-filled portrait shots. On a fundamental level, I was impressed by the handset's ability to produce sharp, detailed pictures, even in challenging conditions. The zoom feature works really well, and you can still capture breathtaking shots at a distance.
Just like Huawei's latest devices, the camera on the Reno 2 comes with several AI enhancements that automatically adjust the camera settings based on the subject. OPPO's effort, however, is nowhere near as pervasive. That's arguably a good thing, especially if you know what you're doing, and you want to take pictures without the phone making any decisions on your behalf.
Wrapping up
The OPPO Reno 2 is a weird character. It's half the price of the current generation of flagship devices. But I can, in good conscience, recommend it just as heartily as I would something like the Samsung Galaxy Note 10. It's not perfect; the display could be better, ColorOS might not be to everyone's taste, and it lacks wireless charging. That said, it gets the fundamentals right. Despite its middle-of-the-pack silicon, it feels slick and fast. The industrial design is solid. And the camera is excellent.
On a fundamental level, the Reno 2 is a good phone. And at £449, it's nothing short of a bargain. If you're unwilling to pay circa £1,000 on the latest-and-greatest flagship, this handset is a perfect compromise. And the funny thing is, the OPPO Reno 2 doesn't feel all that compromised. ®
Similar topics
Narrower topics