This article is more than 1 year old
Surveillance kit slinger accused of slapping 'Made in America' on Chinese gear, selling it to the US government
But sure, it's Huawei that's the big security threat
Staff were cuffed in a police raid on Thursday at the offices of US surveillance equipment vendor Aventura Technologies. The workers are now facing criminal charges for allegedly passing off Chinese-made gear as stuff built in America, and selling it to Uncle Sam and its military.
Aventura has also been charged (PDF) as a company for fraud and unlawful importation, while the seven employees, who include the business' owner and former workers as well as present employees, were charged with fraud, unlawful importation, and money laundering. Six of the seven were charged today in a New York federal district court.
The allegations stem from a scheme the US government says ran as far back as 2006. It is alleged Aventura imported cheap cameras and network-enabled security gear from vendors in China, then rebranded the equipment as being made by Aventura at its factory in Long Island, NY.
The knock-off gear was then sold as "Made in the USA" equipment to both private sector and government customers, including the US military, it is claimed. Prosecutors say that some of the allegedly dodgy gear contained known security vulnerabilities.
In addition to lying about the products being made in America, it is alleged Aventura owner Jack Cabasso falsely represented his wife Frances as being the owner and CEO of the company in order to get government contracts earmarked for women-owned small businesses.
Some of the alleged counterfeit hardware included night-vision cameras sold for $13,500 apiece, $156,000 worth of automated turnstiles, and more than two-dozen body cameras. Prosecutors believe that over the thirteen years the scam operated, Aventura was able to rake in some $88m in sales.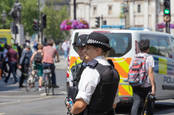 Let's check in with our friends in England and, oh good, bloke fined after hiding face from police mug-recog cam
READ MORE
Much of that money is alleged to have been laundered by the Cabassos through payments to shell companies, law firms, real estate deals, and then used to purchase a 70-foot luxury yacht for the couple in the business' name.
"As alleged, the defendants falsely claimed for years that their surveillance and security equipment was manufactured on Long Island, padding their pockets with money from lucrative contracts without regard for the risk to our country's national security posed by secretly peddling made-in-China electronics with known cyber vulnerabilities," US Attorney Richard Donoghue said in announcing the arrests.
"With today's arrests, the defendants' brazen deceptions and fraud schemes have been exposed, and they will face serious consequences for slapping phony 'Made in the USA' labels on products that our armed forces and other sensitive government facilities depended upon."
In addition to the arrests and arraignments, prosecutors say they have executed search warrants at Aventura's headquarters and at the home of Jack and Frances Cabasso. They have also frozen $3m spread over 12 bank accounts and have seized the Cabassos' yacht. ®