This article is more than 1 year old
Apple's credit card caper probed over sexism claims – after women screwed over on limits
Blame the algorithms: It's the new 'dog ate my homework'
Apple is being probed by New York's State Department of Financial Services after angry customers accused the algorithms behind its new credit card, Apple Card, of being sexist against women.
The drama unfolded on Twitter over the weekend as David Hansson, creator of Ruby on Rails, the popular framework for the Ruby programming language, berated Apple for giving his wife, Jamie, 20 times less credit than him, despite them both applying for Apple Card using information from joint tax returns.
The @AppleCard is such a fucking sexist program. My wife and I filed joint tax returns, live in a community-property state, and have been married for a long time. Yet Apple's black box algorithm thinks I deserve 20x the credit limit she does. No appeals work.

— DHH (@dhh) November 7, 2019
After the couple complained, Jamie's credit limit was boosted until it matched David's. They were told by two Apple representatives that the issue was down to its algorithms and that Jamie should check her credit score. It turned out, however, that Jamie's credit score was actually higher than her spouse's.
She spoke to two Apple reps. Both very nice, courteous people representing an utterly broken and reprehensible system. The first person was like "I don't know why, but I swear we're not discriminating, IT'S JUST THE ALGORITHM". I shit you not. "IT'S JUST THE ALGORITHM!".

— DHH (@dhh) November 8, 2019
The Apple Card was created and designed by Apple, but is issued by Goldman Sachs. A statement from the US bank's spokesperson said each credit card application is evaluated independently.
"We look at an individual's income and an individual's creditworthiness, which includes factors like personal credit scores, how much debt you have, and how that debt has been managed. Based on these factors, it is possible for two family members to receive significantly different credit decisions."
Although Jamie has a higher credit score than her husband David, it's possible that the disparity of their Apple Card credit limits is due to a difference between their personal incomes.
"I have never had a single late payment. I do not have any debts. David and I share all financial accounts, and my very good credit score is higher than David's," Jamie said on Monday.
"I had a career and was successful prior to meeting David, and while I am now a mother of three children — a 'homemaker' is what I am forced to call myself on tax returns — I am still a millionaire who contributes greatly to my household and pays off credit in full each month. But AppleCard representatives did not want to hear any of this. I was given no explanation. No way to make my case."
As a homemaker, maybe Jamie put down a lower figure for her personal income in the application compared to her husband. It's unclear, however, as David did not respond to requests for comment.
Personal income and an official inquiry
The Hanssons aren't the only ones who experienced this problem. Steve Wozniak, co-founder of Apple, also received a ten times more credit limit than his wife Janet.
The same thing happened to us. I got 10x the credit limit. We have no separate bank or credit card accounts or any separate assets. Hard to get to a human for a correction though. It's big tech in 2019.

— Steve Wozniak (@stevewoz) November 10, 2019
When The Register asked Steve if there was a big difference between the figure he and his wife put down when they applied for the card, we were told that the couple didn't.
"We have no separate assets. No separate property. No separate bank accounts. No separate credit cards. Any exceptions are accidental or things we are stuck with but they are small and meaningless. We have unlimited credit cards with other suppliers," he said.
Steve also explained that the majority of the couple's income came from his speaking arrangements. "Our speaking agency, New Leaf Speakers, does a wire transfer of all funds directly into our joint account. It never even passes through my hands. When we married, Janet had as much as I in assets, and maybe more.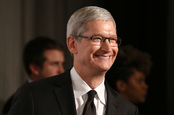 WTF? Apple iPhones shrank by more than $22bn in fiscal '19
READ MORE
The algorithms used to determine how much credit an individual receives is not Apple's responsibility, he added. Instead, Steve said it was Goldman Sachs' or Mastercard's problem.
"They will not tell us how they came to different levels for myself and Janet," he opined. "Obviously when they ask for things like bank accounts, they don't have a human call to see the joint status."
Sometimes being a loudmouth on Twitter gets you somewhere these days, and in Hansson's case it caught the attention of the New York State Department of Financial Services (NYDFS). The state's financial regulators announced it was opening an official inquiry to investigate Apple Card's algorithms.
"On Saturday morning, I read a Twitter thread from an Apple Card user — tech entrepreneur David Heinemeier Hansson — detailing how his card's credit limit was considerably higher — twenty times — than that of his wife, despite his wife having a higher credit score," said Linda Lacewell, Superintendent of NYDFS.
"I responded, announcing that the New York State Department of Financial Services (DFS) would examine whether the algorithm used to make these credit limit decisions violates state laws that prohibit discrimination on the basis of sex."
Apple and Goldman Sachs were not immediately available for comment. ®