This article is more than 1 year old
Gavin Patterson's gravy train keeps on rolling as former BT boss tossed two more sinecures
Next stop, Solon and Elixirr – on top of role as Salesforce chair
Former BT chief exec Gavin Patterson is a busy boy. On top of his position as part-time chair of Salesforce, the mullet-sporting, '80s businessman throwback will also be gracing two more companies.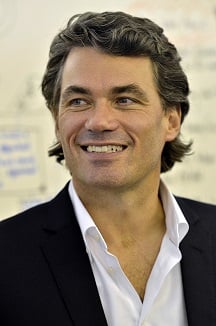 It was announced today that Patterson (pictured) will be joining Solon Management Consulting as an advisor and Elixirr as chairman. Who? The first appears to be a German consultancy company specialising in telecoms, media and technology (TMT) industries.
According to its blurb, Solon sells "clear, rapid and tailor-made solutions, ranging from strategy development to operations implementation." Alles klar? Sehr gut!
London-based Elixirr, meanwhile, describes itself as "the challenger consultancy". According to managing partner Stephen Newton: "Elixirr is not a mass-market product, it's a bespoke, high-value product. Elixirr is Ferrari, not Škoda." So... cripplingly expensive rather than reliably affordable?
Since officially leaving BT in February, Patterson has continued to receive a total of £1m in pay and pension until October – on the condition he didn't get another job before then.
Not wishing to waste any time, in September he announced plans to join Salesforce, in the newly created part-time role of chairman for Europe, the Middle East and Africa.
Patterson joined BT in 2013. During his tenure at the former state monopoly, he faced criticism for the company's under-investment in broadband, poor customer service record, and splashing billions on TV for football.
BT is in the process of major restructuring, axing 13,000 jobs from its 100,000 workforce in a bid to save £1.5bn over three years and closing about 90 per cent of its offices across the UK.
Of his latest appointments, Patterson said: "I am delighted to work with Solon and provide my expertise in the telecom and media sectors. From a strategic and operational perspective, by helping clients understand regulations, infrastructure and operational improvements for the digital era, I would like to make sure they are ready for the future changes that will happen in the industry."
And: "I'm delighted to join Elixirr as chairman. The firm's growth is admirable, and they have built a strong, authentic brand and a very talented team – an impressive achievement for such a young firm."
We're sure he'll be a great fit! ®