This article is more than 1 year old
Astroboffins capture video of Mercury passing across the Sun's surface
Not gonna happen again before 2032
Mercury, the smallest planet in our Solar System, appeared as a tiny black dot on Monday as it crossed the Sun's surface in between the Earth and its star.
Images captured by NASA's Solar Dynamics Observatory (SDO) show a stark silhouette of a spherical object floating across the bright orange backdrop of the Sun. The phenomenon known as a transit happens fairly infrequently, around a dozen times a century, and the next one won't happen until 2032.
The event began when the planet began passing at one side of the star on Monday at 1235 UTC and ended nearly six hours later at 1804 UTC when completed its transit.
Due to Mercury's tiny size and the Sun's glare, the transit was not visible to the naked eye. If you didn't get the chance to spot the spectacle then here's a quick time lapse of it unfolding below. The images were snapped using various instruments operating in different wavelengths aboard the SDO.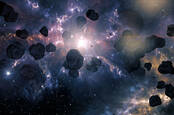 Boffins find asteroid with the shortest solar year of any space rock in our Solar System
READ MORE
"This is a rare event, and we'll have to wait 13 years until it happens again. Transits are a visible demonstration of how the planets move around the Sun," said Mike Cruise, president of the Royal Astronomical Society.
Mercury and Venus are the only two planets that have observable transits since they lie within Earth's orbit. The innermost planet, Mercury is a more common occurrence due to its short orbital period of just 88 days. Venus, on the other hand, has a more peculiar transit pattern. It crosses the Sun twice in eight years, and then doesn't reappear for over 100 years after that.
The last time Venus passed between the Earth and the Sun was in June 2004 and then again in June 2012, and won't be seen again until December 2117, so if you're reading this you've missed your last chance to see it - barring some pretty major medical advances in longevity and/or brain uploads.
You can flick through more images of Mercury's transit here. ®