This article is more than 1 year old
Complete with keyboard and actual, literal, 'physical' escape key: Apple emits new 16" $2.4k+ MacBook Pro
Make a notebook, fanbois
A 16-inch MacBook Pro – with a freshly designed keyboard that isn't trashed by dust and includes a "physical" escape key – has landed, but it won't come cheap, costing the same as a modest family holiday or a second hand car.
The $2,799 portable has a Retina display and some beefy but by no means unique specs, starting with a 2.3GHz eight-core ninth-generation Intel Core i9 processor, 16GB of RAM, an AMD Radeon Pro 5500M GPU with 4GB of GDDR6 memory, and 1TB of SSD storage. The $2,399 version has a six-core Core i7 processor, 512GB of storage, and a Radeon Pro 5300M.
In the UK, swap dollars for pounds, such is Apple's magical currency conversion rate. A fully loaded 16-inch MacBook Pro, with the Core i9, 64GB of RAM, Radeon Pro 5500M with 8GB, and 8TB of storage, will set you back more than six grand.
Apple was quick to point out the "world's best pro notebook" will not, happily, include the butterfly keyboard that, since its release in late 2016, has caused some customers to get hot under the collar.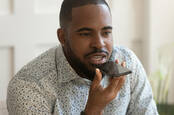 Apple will wring out $18bn by upselling NAND to fanbois – analyst
READ MORE
Basically, the keyboard mechanism has been prone to failure and was said by repair gurus iFixit to be "easily paralysed by particle matter" and "difficult to repair". Its problems led to lawsuits that encouraged Apple to offer a free repair service and replacements.
The new Magic Keyboard that replaces it has what was described as a "refined scissor mechanism" which Apple expects will deal with the flaw. The new keyboard should also give you 1mm of key travel and pack a "responsive key press", promised Apple, which, not to be outdone, even packs an actual, "physical Escape key"...
Previously, MacBook users had to assign esc key functionality to another key or access it via the function keys on the Touch Bar. Now, as if you were some kind of cool wizard PC user from the late '80s, you can press esc itself - no intermediary steps - like it's nothing.
Sarcasm aside, this shows Apple has been listening to developers, who've often got no option to reassign another key, and prefer the feedback they get with a physical key to the fiddly touchscreen response.
"Our pro customers tell us they want their next MacBook Pro to have a larger display, blazing-fast performance, the biggest battery possible, the best notebook keyboard ever, awesome speakers and massive amounts of storage, and the 16-inch MacBook Pro delivers all of that and more," claimed Apple's senior director of Mac and iPad product marketing, Tom Boger.
The device will be in US Apple Stores and in the palms of its American authorised reseller crew later this week, while stores around the rest of the world will be stocked "soon", said Cupertino. ®