A federal judge in the US state of Washington has struck down a settlement that would allow people to post blueprints and instructions to 3D-print guns, claiming it was unlawful.
Judge Robert Lasnik said Uncle Sam's State Department had "simply abandoned" a ban on posting the gun CAD files online without giving an explanation or justification, and without informing Congress of its plans to do so.
The federal government "must do more than simply announce a contrary position," the judge ruled [PDF] yesterday, striking down a settlement reached between a non-profit based in Texas called Defense Distributed and the Trump administration in 2018.
The issue is the latest installment in a lengthy legal battle between the US government and Defense Distributed. The organization for some reason believes that posting blueprints to 3D print gun parts and instructions on how to put the results together to make a functional plastic gun is a good idea.
Despite the fact that the gun in question – called The Liberator – is a piece of crap that can't shoot straight, or far, and is unlikely to damage anything that it manages to hit, the State Department felt obliged to take a stance on the idea of posting gun blueprints online.
Rather than stir up Second Amendment advocates claiming First Amendment rights – which was largely the point in posting the plans in the first place – the State Department decided, in 2012, that the blueprints constituted an export and banned them through the Arms Export Control Act.
More guns = safer for everyone
The Register interviewed the mastermind behind Defense Distributed, self-described crypto-anarchist and law school dropout Cody Wilson in 2014 during which he explained his decision to posts the blueprints.
"Giving people this power that can be used for criminality ends up with a force for good," he argued. "More guns in the hands of more people leads to a lower crime rate. I'm interested in the challenge, not the ethics. What we are doing is traditionally sound … maybe I'll go to Hell for this, but I think it's a good thing."
Less good was his decision in 2018 to pay $500 to have sex with a 16-year-old girl he met through the website SugarDaddyMeet.com. That led to an arrest warrant in Texas that Wilson tried to avoid by fleeing to Taiwan. He was collared at a restaurant in Taipei the next day, and extradited back to the US.
In August this year, Wilson reached an agreement with prosecutors: he would plead guilty [PDF] to a reduced charge of injury to a child, down from sexual assault of an underage teenager, in exchange for staying out of jail. He was required to register as a sex offender and – irony of ironies – is not allowed to own a gun, 3D-printed or otherwise, while on probation for the next seven years.
A deal
Back in 2015, however, Wilson and Defense Distributed sued the federal government over its 3D gun blueprints which resulted in a series of further rulings and appeals until June 2018, when the State Department – under the new Trump administration – suddenly decided to reverse its policy and decided that the blueprints did not in fact violate export control and could be posted online.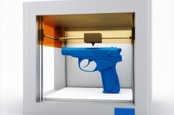 Defense Distributed starts selling gun CAD files amid court drama
READ MORE
In response, Wilson dropped the case. But the decision was then immediately challenged by nineteen states and the District of Columbia who sued the federal government. A judge issued a temporary restraining order against the Trump administration in July 2018. Wilson reacted by selling the blueprints through his website.
This week's ruling was a summary judgment that concluded the June 2018 settlement was not valid because Congress wasn't informed and no reason was given for the about-face in policy.
There has been no response about the decision yet from the White House and the president's Twitter feed has been preoccupied with the first day of impeachment hearings against him.
The State Department has said it is still reviewing the decision and the Department of Justice has refused to comment. Sex offender Wilson has also declined to comment but a lawyer for Defense Distributed said it would be appealing the decision and "fully expects a swift reversal." ®