This article is more than 1 year old
Thanks, Brexit. Tesla boss Elon Musk reveals Berlin as location for Euro Gigafactory
Was UK even really in the running?
'Leccy car baron and space botherer Elon Musk has unveiled a surprising pick of Berlin for the company's European "Gigafactory 4", quickly following up by blabbing to car mag Auto Express that "Brexit had made it too risky to put a Gigafactory in the UK."
Speaking at the Golden Steering Wheel Awards, Musk said last night the new European Gigafactory battery facility would be based in the Berlin 'burbs, close to the site of the as-yet-unopened Willy Brandt Airport at Berlin Brandenburg. The Model 3 picked up Germany's Midsize Car of the Year gong at the evening, beating the BMW 3 Series and Audi A3.
His Muskness later tweeted that Tesla would build "batteries, powertrains and vehicles" at the Berlin plant, starting with the all-electric compact crossover utility vehicle, Model Y.
The news comes three years after Musk's firm acquired specialist automative plant machine manufacturer Grohmann Engineering – now Tesla Grohmann Engineering – based in the town of Prüm, in the Eifel mountains in west Germany, a full 677km, seven-hour-plus drive from Germany's capital in the northeast.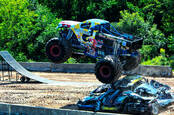 Gas-guzzling Americans continue to shun electric vehicles as sales fail to bother US car market
READ MORE
Berlin is an interesting choice of city, given that engineering (and other) salaries are naturally higher in the capital, not to mention the pick of Germany itself, which is known for its progressive labour policy, so much so that even Jeff Bezos' Amazon was strongarmed into paying good wages after multiple strikes supported by Germany's unions and legislation.
In the March following the Grohmann acquisition, the firm's founder, Klaus Grohmann, left the company, reportedly because of a disagreement over focusing on Tesla projects rather than those of German-based rivals Daimler and BMW, chatty sources told Reuters at the time, although this was never confirmed. The company also helped build production facilities for electric car batteries for legacy clients.
At the time, Tesla outlined plans "to add over 1,000 advanced engineering and skilled technician jobs in Germany over the next two years". We've asked Tesla for comment on how close it is to that goal.
Earlier this month, Tesla surprised the stock market by posting a profit of $143m for its third quarter, a light moment after it lost over $1bn in the first half of the year amid struggles to control costs around its production lines. It turned over $6.3bn for the three months compared to $6.5bn the year before. Musk said during the Q3 briefing earlier this month that the Shanghai factory had created a template that could be followed in Europe – although we note Tesla is still waiting for final licensing and government approval in China.
Tesla said it delivered 97,000 vehicles – 79,600 Model 3s and 17,400 Model S and X vehicles – in its latest quarter, just short of the 99,000 it predicted. The company predicted earlier this year that deliveries for 2019 would fall between 360,000 and 400,000, meaning it would have to ramp delivery this final quarter to about 105,000 vehicles. ®