This article is more than 1 year old
If you've wanted to lazily merge code on GitHub from the pub, couch or beach, there's now a mobile app for that
GitHub opens beta of handheld tools, unveils Arctic stunt, and other stuff
GitHub used the first day of its Universe developer conference to roll out a slew of new projects, including a dedicated mobile app.
On Wednesday the source code depot said the smartphone application would be designed to let developers perform some of the more common non-coding tasks, such as reviewing pull requests, managing merges, and so on. GitHub says it'll work with any size of screen and, of course in 2019, it has a dark mode.
"There's a lot you can do on GitHub that doesn't require a complex development environment, like sharing feedback on a design discussion and reviewing a few lines of code," explained GitHub senior VP of product Shanku Niyogi.
"Now we are making these tasks easy for you to perform, no matter where you work, with a beautifully native experience."
The app, considered to still be in beta, is currently only available for iOS, though GitHub says an Android version is coming through the pipeline.
In addition to the mobile app, GitHub has rolled out a beta of a new notifications inbox designed to be less invasive than previously, as well as a new code search feature designed to return better results when crawling through repositories, and a new review assignment option that lets teams better specify who will be responsible for what portions of a project.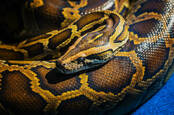 Python overtakes Java to become second-most popular language on GitHub after JavaScript
READ MORE
For those looking to crowdsource funding for their projects, GitHub has opened up Sponsors, a payment system – trialed in May – that allows backers to set up recurring monthly payments to their favorite open-source developers. It's now open to all GitHub users.
GitHub is also taking a handful of its beta projects out of the test phase and into general availability. These include the GitHub Actions automation tool, the GitHub Packages registry tool, and a new code navigation feature that will be expanded to all Ruby, Python, and Go code repositories on the site.
And because no conference is complete without a publicity stunt, GitHub also showed off a "thousand years" code repository.
Dubbed the GitHub Arctic Code Vault, the project collects open-source code archives and stores them in various storage mediums within vaults located in Norway's remote Svalbard archipelago and other unspecified locations.
"Our world is powered by open source software. It's a hidden cornerstone of our civilization, and the shared heritage of all humanity," Niyogi said. "The mission of the GitHub Archive Program is to preserve it for generations to come." ®